Double Bridge, East Marton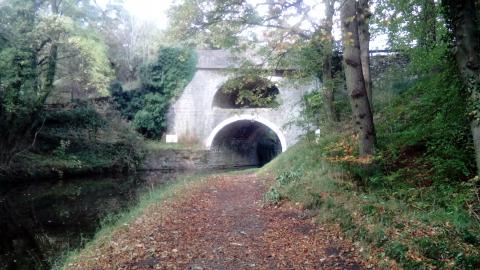 If one cycles down the canal from Barnoldswick to Gargrave, one passes beneath a curious double-arched bridge. It looks like a bridge on top of another bridge. There ought to be a curious tale proffering explanation, but sadly it's all rather mundane. When they built the A59, the current, lower canal bridge was deemed to low, resulting in an undesirable dip in the road. Another was therefore added to it, to allow the road to exist at a higher level. I've driven that road hundreds of times, and not even been aware I was on a bridge.
Although it is now a rather lovely feature of the canal, and I'd not wish to see it removed, it is essentially the consequence of poor planning. The original bridge was inadequate, so it had to be supplemented.
This is why I get upset when religions and religious figures claim to offer us a bridge to God. Christ is our great bridge to God- He is the way, the truth and life; He is the door through which we must pass into the sheepfold. Why then does the Pope claim to be Pontifex Maximus, or great bridge/bridge builder? Why does the Watchtower Bible and Tract Society of New York claim that your membership of its organisation is the only way you can receive Jehovah's forgiveness? Why do Exclusive Brethren Assemblies disfellowship anyone who has links with other Christians? Is Christ, our great bridge to God so inadequate that we must build other bridges on top of Him? Or other bridges to Him?
Taken up to heaven she did not lay aside this saving office but by her manifold intercession continues to bring us the gifts of eternal salvation... Therefore the Blessed Virgin is invoked in the Church under the titles of Advocate, Helper, Benefactress, and Mediatrix.
Catechism of the Catholic Church, paragraph 969
No, there is only one bridge and way to eternal life; it is Christ Jesus Himself. No other mediators, bridges, doorways or roadmaps are needed.
Illustrations can be seen here: http://www.turnbacktogod.com/jesus-christ-is-the-bridge/