Five Rules For Writing Your Own Tracts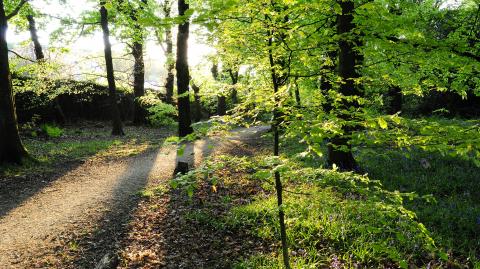 1: Text. This must consist of quotations from the King James Bible of 1611. Do not add your own words. The words of men will hinder the work of the spirit. Use seven texts; seven is the perfect number in scripture.
2: Pictures. These must be limited to illustrations of the natural world. Do not make them too attractive, so that there will be no temptation to indulge the lust of the eyes.
3: Materials. Use lightweight paper to show good stewardship. Print twelve tracts per A4 sheet, since they will be sent out as types of the apostles.
4: Method. Place them in supermarket trolleys, under car windscreens, on shop counters, on bus seats, in phone boxes, so that you may by all means save some. However, do not get personally involved with the ungodly: "Be ye separate, saith the Lord."
5: Motivation. Before you begin, wait "until ye be endued with power" to confirm your calling. It may be that there are more pressing works for your hands to do, such as praying for the peace of Jerusalem or re-reading "Why Revival Tarries."
Finally, be warned! Failure to follow these five rules will result in the absence of all blessing and will put your family and finances at risk.
If you bought into any of the above, then you're in the wrong place entirely. Move along now, you Fundies! Nothing for you to see here!
What I will say about making your own tracts, though, is that it's interesting, informative, and it will help to get you using them on a regular basis.
I decided to make my own when I was given a pile of TBS tracts at another church, and told that I must use those and only those. Now, this is no reflection on the very worthy Trinitarian Bible Society - I like much of their material. However, these tracts were just a few fragments of KJV text on flimsy scraps of shiny paper, with a picture of a sunset over some undistinguished hills. People would glance at them, then crumple them up and throw them away.
When I mentioned this to the man who was organising the event, he became extremely unpleasant; but, before he turned on his heel, he said, with an alarmingly sly smile, "And they're absolutely free, as many as we want! And that goes for the bibles as well! They don't cost us a thing!" I wondered what the supporters of the TBS, who give so generously out of their own pockets, would have made of his words.
So, what did I do? It took me several weeks to produce what I wanted, but for you, I'll be brief.
Text. On one side I put a version of the well-known "Romans Road". I gave it the title "Only One Way", just to make it sound different. On the other side? I like to listen to good sermons, from sermonaudio.com and elsewhere. I found one that ended very affectingly. I wrote down the last few sentences, then reworked them. Here's how they ended up, using John 14.6 as a heading.
The Bible declares clearly that Jesus Christ is Almighty God in human form: that is, the eternal God stepped out of Heaven two thousand years ago in the person of Jesus Christ; He came to the Earth, born of a virgin; took to Himself a sinless human nature; and He lived on Earth for thirty-three years before He died; and He never sinned.
He did not deserve the penalty for sin, which is death - so that when He was dying on the cross, He was not dying for His own sin, He was dying as a substitute for all those who will come to believe in Him, and only them; and He paid for all their sins.
He was raised from the dead, bodily, on the third day; He ascended to the right hand of His Father and He sat down, having done everything necessary to save sinners like us; and He sends forth His Word, the Gospel, in the hands of His Holy Spirit, and He calls sinners to Himself.
And if this day you will admit the truth, God's truth about you - that you are lost, that you cannot do one thing to save yourself, and that Jesus is your only hope, the only Saviour, the only name given among men by which we can be saved; then, if you will look to Christ with the eyes of faith, He will save you.
I would encourage you to do that today: call out from your heart, a heart broken over your sinfulness, a heart acknowledging your lost condition; call out to Christ, trusting His merit, trusting His death for the forgiveness of your sin.
To complete that side, I added Isaiah 1.18, Matthew 11.28, and John 6.37.
Pictures. I used the photo at the beginning of this entry - it's my own, so there are no concerns about copyright. It looks better on paper than on a small screen, but perhaps you can still see why I chose it.
Materials. I decided on A5 card, to give the impression that here was something worth having, in pale colours to catch the eye. Cream or yellow works well. You can get packs online, or from your local stationery supplier. I can honestly say that these tracts are very seldom discarded in the street. For printing, any word processor such as LibreOffice should suffice. I used Serif's PagePlus, but that's because I bought it for other tasks, and I want to get my money's worth! I'm not at all skilled in desktop publishing, so I followed the KISS Principle: "Keep It Simple, Stupid!"
Methods. These tracts lend themselves to all types of Open Air work. Be warned, though: if you're using an inkjet printer, the ink runs in the rain! I keep mine in a plastic envelope and take them out a few at a time when it's wet.
Motivation. If in doubt, I suggest that you keep reading this blog: "Why We Need A Plan, Part Two" is coming soon!
There are, of course, many types of tracts. Read all you can of those professionally produced by the various evangelistic associations; but, beware of bad doctrine and the money-making machinations of the Circus Church. Then, try writing your own. Keep the gospel clear, don't water it down, and present it as well as you possibly can; check your efforts again and again, until you're sure that there are no errors whatsoever; finally, ask several other people to go over it, just to be on the safe side.
It takes time, and you'll need to pray it through; but, you'll learn a lot.