Holy Doors to Nowhere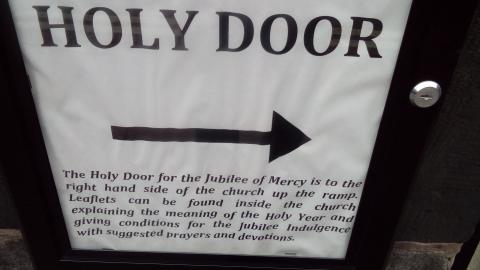 2015-16 was an exciting year for Roman Catholics. The Pope had ordered an extraordinary Year of Jubilee: by passing through certain churches' doors, one obtained an indulgence, thereby reducing one's time spent burning in the fires of purgatory. I was at St Peter's in Rome where yellow-bibbed attendants encouraged the devout to pass through, as well as York's main Catholic Church, which had helpfully posted instructions. Upon passing through the door, one had to repeat three prayers, a creed, and attend confession within the week. A bargain. 
There is indeed a door through which we should pass if we are to have sins forgiven. Or rather, through whom we should pass. It is Jesus Himself. He said: 
'I am the door: by me if any man enter in, he shall be saved, and shall go in and out, and find pasture.' 
There are no prayers or formulae to be recited, no appointments at confessionals to keep. For Christ has paid for our sin in its entirety; there is nothing I can possibly contribute. 
Salvation and forgiveness are not found in passing through physical doorways, nor in obeying the instructions of a religious organisation. They are found in Christ alone.