The Bible (1966)
I recently watched the 1966 epic The Bible: In the Beginning, produced by Dino De Laurentiis and directed by John Huston. It begins at creation, going through the Fall and Babel and finishing with Sodom and Abraham. It is remarkably faithful to the text and was a far greater pleasure to watch than I had imagined. The scene in which Eve is attracted to the Tree of Knowledge by the serpent is cleverly done; it is set at twilight; the mixture of darkness and light in the Garden is reflected in Eve's own mind.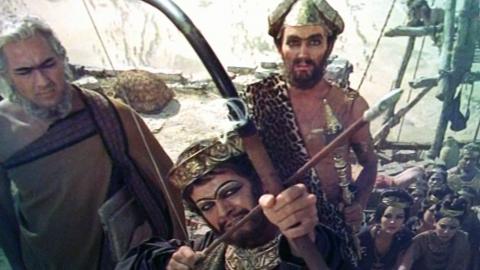 The film depicts Nimrod, king of Babylon, standing atop his mighty tower and shooting an arrow in heaven, demanding that God acknowledge his kingdom. The most daring section, however, is the portrayal of Sodom and Gomorrah. The 'LGBT' movement was gaining ground in metropolitan America, but the film pulls few punches within the confines of decency. One woman is seen entertaining a goat within the hedonistic, sexually permissive city of darkness.
Despite the enjoyment the film gave me, I cannot but concur with Leonard Maltin's comment in TV Movies: "Definitely one time when you ought to read the book."