Bowland Estates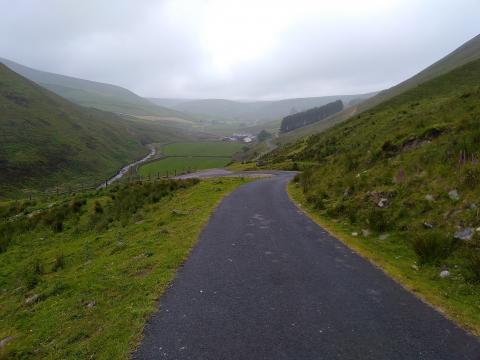 Last month, a friend and I went walking in Bowland. Parking at Dunsop Bridge, we climbed up into the fells. My companion had a map-app on his mobile phone, I a rather unwieldy Ordnance Survey. The fells' names sounded strangely familiar: Whitendale, Croasdale, Brennand and Whin.
I grew up on a small housing estate in north Lancashire, the streets of which were named after these fells. It was not owned by the council, but a housing association, though it operated along the same lines. Its denizens included the usual mix of hard-working folk who needed a hand up life's ladder, as well as shirkers and those with criminal aspiration. Unlike some inner-city examples, it was pleasantly landscaped. That said, it was nothing at all like the beauty of Bowland, with its dramatic fells, verdant valleys and gurgling rivers. Town planners of the 1950s-70s seemed to have a penchant for giving areas of 'social housing' idyllic, rural names, or ones belonging to exotic foreign cities. In Burnley, the inhabitants Venice Avenue would frequently appear before the local magistrates for their disreputable activities; Marshaw Road, named after a Bowland hamlet, is found in Lancaster's notorious Ryelands estate. By calling poorer housing districts after rural uplands, the invoked wonder would hopefully inspire the occupants to better themselves. Another example is Basildon's Five Links estate, the streets of which were named after local English villages or farms (such as Somercotes, Mellow Purgess, Newberry Side). In order to shed the estate's 'sink' reputation, the council renamed those roads, this time after flowers: Wisteria Court, Lobelia Mews, Begonia Drive and Orchid Place. I suspect that if village names did not dissuade the residents from antisocial behaviour, a few flowers won't make a difference. So often, the least desirable places to live are given the sweetest names. The contrast between a given street and its cited, rustic idyll cannot often be greater.  
I have banged on about churches' names before. How many of them are descriptions, rather than unrealistic- or even dishonest- aspirations? Are 'community churches' really societies of God's people? Do 'Hope Churches' really inspire that feeling, or do worshippers just hope the preacher will sit down? Are reformed churches really true to the spirit of the reformation, or are they just little fiefdoms where small-minded men rule the roost? We are Salem Chapel: are we really the place where Melchizedek-like folk retain knowledge and worship of the one true God, in an increasingly pagan and ignorant world? Are we really a place of peace, where the gospel's offer of harmony between God and man is faithfully proclaimed?
Bowland is a more beautiful place than I remembered, and the contrast it provides with the place I grew up all the more noticeable. Our council estates and housing association developments are never nearly as pleasant as their names suggest; I pray we as churches come nearer the mark.