Burdock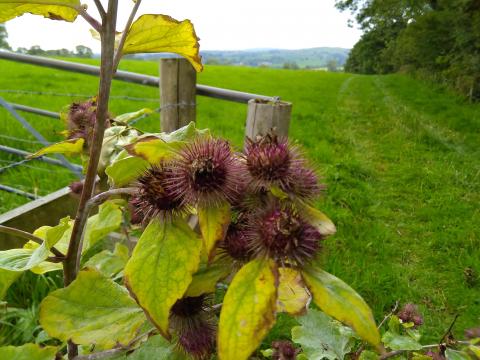 This is common burdock and I found it growing in a field by Downham Bridge. Straight away, I was reminded of my favourite fizzy drink flavour, dandelion and burdock. Initiallly made from the roots of both plants, the modern carbonated drinks to which I refer seldom use the original ingredients, though some now claim to include 'plant extracts'. Well if the burdock plant seldom inspires our drinks manufacturers, the same cannot be said for our inventors. George de Mestral, a Swiss, wondered why the burdock heads stuck to his coat while dog-walking in 1941. In 1948, he launched Velcro, whereby two fabrics 'mate' with each other, its name coming from the French words for velvet and hook ('crochet'). Velcro is a wonderful adhesive, without the need for chemicals and glues. Proverbs 18:24 states:
A man that hath friends must shew himself friendly: and there is a friend that sticketh closer than a brother.
Jesus, considered by His enemies to be the friend of sinners, sticks so close, that though the mouth of hell yawns to swallow us, He will not let us go. His yoke is easy and His burden is light, but rest assured, His grip is iron.