Clement Danes: God Sees You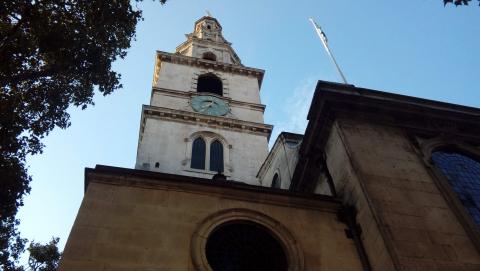 Above the west door of St Clement Danes Church, London, are written the words:
 Thou God seest me. Gen.16.13.V.
This is one of London's most famous churches, immortalised in the well known, but equally terrifying nursey rhyme, Oranges and Lemons. Situated on the Strand, it is in the heart of the capital, with numerous statues of the great and the good within its environs. Yet the text inscribed on its tower is from the story of Hagar, the unfortunate maidservant of Sarai, Abram's wife. Having fled into the wilderness alone and afraid, God Himself appears to her in that barren place of obscurity.
There are many traipsing around fashionable London tonight, admiring the art works, the architecture, the expensive shops and stylish locations. Some will have tired of life, feeling downcast, lonely and afraid. Though among the crowds and masses, they feel remote and isolated. Well the God who saw Hagar and came to her still comes to the weak and vulnerable. He may not permit you to see Him, but He sees you well enough. He is not far from any of us, but closer, I think, to the lonesome and friendless.
'Call to Me, and I will answer you, and show you great and mighty things, which you do not know.' Jeremiah 33:3