Clivia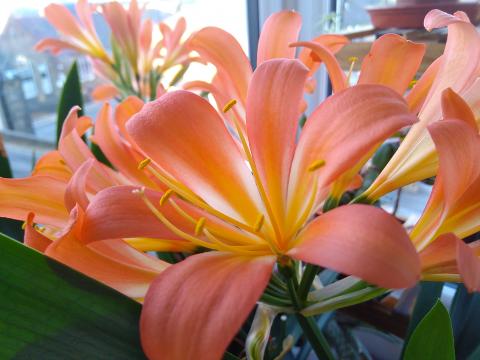 Some house plants just do not like my house. One I was bought for Christmas was dead within the month. My house is generally too cold for want of central heating, or too hot, for having one room heated by a blazing fire. Even if I heated every room like most folk, some plants would protest, for lack of moisture, too much light, too little light, pots too big, pots too small. One can rarely keep all happy all the time. By trial and error, we discover those plants which find our dwellings to be agreeable.
Clivia is a plant that actually likes my home. So abundantly does it flower and reproduce that I assumed it was very easy to care for, but the RHS website lists quite a number of gripes the plant might have. It was more thanks to good fortune than good management that conditions in my home were so conducive. Or, it simply puts up with them, and flowers anyway. 
There are some disagreeable things in our Christian lives and churches about which we should object and protest, and others with which we should put up, holding our tongues and keeping the peace. It takes wisdom to know the difference.
I appeal to you, brothers, by the name of our Lord Jesus Christ, that all of you agree, and that there be no divisions among you, but that you be united in the same mind and the same judgment. 1 Cor. 1:10 (ESV)