David E at Keswick in East Lancashire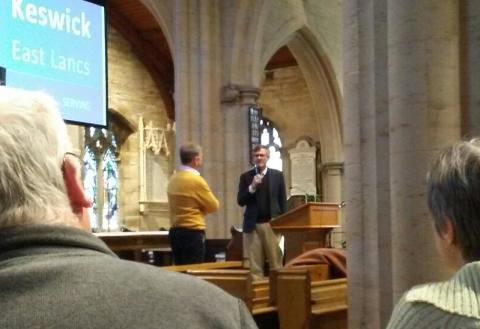 Nine of us went to Padiham on Saturday for the second and third sessions of the 'Keswick in East Lancashire' event, the first taking place the night before at Blackburn Baptist. It's a confusing name as Keswick is not in East Lancashire, but it's a wholesome Bible Convention under the umbrella of the famous Keswick Convention. The speaker was David Earnshaw, pastor at Inskip Baptist across in the county's west. His theme was Christ in the book of Isaiah. He preached very clearly on three texts, including Your eyes will see the King in His beauty (Isaiah 33:17) and a study of Hezekiah as a type of Christ.
It was all very encouraging; Christ was preached and His people were uplifted and encouraged. The early apostolic church only had the Old Testament scriptures to read, so it should come as little surprise that they saw our Saviour so clearly anticipated in its pages. Mr Earnshaw, despite having ministered for over two decades in Wiltshire and Wales, has not lost his Blackburn accent; despite this, he came across as well-read and cultured.
I left encouraged, having had a trying week. God ministered a tonic through this man's opening up of God's precious word. My thanks to Blackburn Baptist and St Leonard's, Padiham, for being such munificent hosts.