Empty Shelves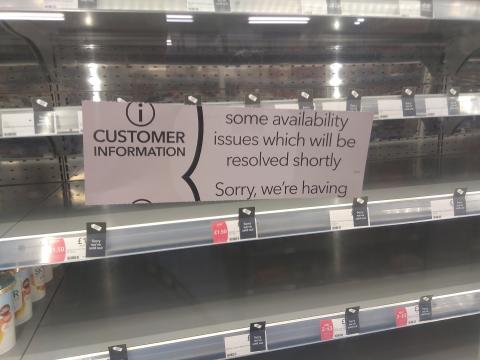 An anti-Brexit friend delighted to share with me his grief at his local Waitrose's empty shelves. His predilection for purple asparagus, pak choi, yams and kohlrabi could not be satisfied. I rather sneeringly suggested that eating more working-class vegetables, such cabbage and carrots, would do his digestive tracts a world of good. Still, that very night, my own local Co-op had its own empty shelves, much to my annoyance.
While Brexit had doubtless exacerbated the problem, there are keen labour shortages felt in Europe also, as the European Foundation for the Improvement of Living and Working Conditions' report of July 2021 makes clear. Still, this doesn't make us feel better or puts parsnips on our shelves. The Guardian newspaper, while naturally agreeing that British departure from the EU's free trade area was bound to inhibit the movement of goods, thinks it is the consequence of a longer-term problem. Lorry drivers and hauliers, its correspondents claim, have been undervalued and underpaid for decades. The Unite union was quoted saying:
"We are short of about 100,000 HGV drivers right now. But there are about 75,000 to 85,000 HGV licence holders who do not drive," he says. "Many are dropping out because of the lack of respect."
We expect our shops to be well stocked with goods, but consider lorries on the road an inconvenience. Truckdrivers, while performing essential work, are not held in highest regard. In Mark 9 we read of the Lord Jesus commanding a possessed boy be brought to Him:
"Bring him to Me." Then they brought him to Him.
The bringers here performed an essential job. Whether you bring people to church, or to Christ; you bring hope and joy; you bring support and encouragement, the bringing is so very vital. Those who bring are so often overlooked. Never mind that. Just keep bringing. Fill those shelves with faith, hope and love.
"Praise the Lord of hosts, For the Lord is good, For His mercy endures forever"— and of those who will bring the sacrifice of praise into the house of the Lord." Jer 33:11