Floods and bows
Carefully negotiating a flooded section of the A65 the other day, I found myself thinking about Noah. Not that he was out in the rain, for he was safely inside the ark for seven days before the rains came. Some translations give God's command as 'Go,' or 'Enter,' but I like the AV/NKJV: Then the Lord said to Noah, "Come into the ark… (Genesis 7:1) Just as I would welcome someone to my home with "Come on in," so the Lord was, as it were, already inside, and Noah could obey with confidence, knowing that he was perfectly safe.
Rather like being saved. I see my guilt before a holy God, I turn from my sins and my 'good' deeds in repentance, I hear the Lord Jesus say, "Come!" and in faith I come, knowing that He will never turn away anyone who comes like that. God who is the Judge is also the Saviour.
How can that be? The wages of sin is death; the penalty must be paid; atonement must be made. When Noah came out of the ark, God made a covenant with him and set His bow in the cloud as a sign of that covenant.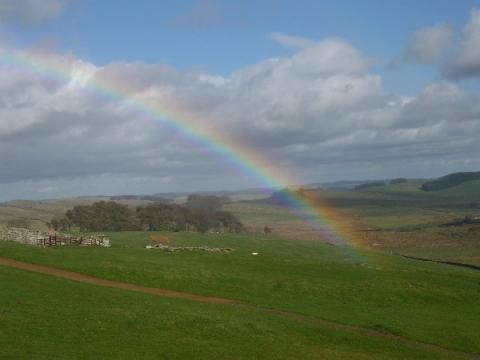 A bow is normally a weapon, with an arrow in it. But this bow has no arrow. Moreover, it is pointing away from me. So God Himself, in the Person of the Lord Jesus Christ, took the penalty, paid the price, and salvation is offered to all who will obey God's command and come.
I'm sure Noah didn't carve any inscriptions on the ark, but if he had done so, I like to think the words over the door on the outside would have been, "Whosoever will may come." And on the inside? "Chosen in Christ before the foundation of the world!"
… but now, once at the end of the ages, He has appeared to put away sin by the sacrifice of Himself. And as it is appointed for men to die once, but after this the judgement, so Christ was offered once to bear the sins of many. To those who eagerly wait for Him He will appear a second time, apart from sin, for salvation. (Hebrews 9: 26a-28)
Before the throne of God above
I have a strong, a perfect plea,
A great High Priest, whose Name is Love,
Who ever lives and pleads for me.
My name is graven in His hands,
My name is written on His heart;
I know that, while in heaven He stands,
No tongue can bid me thence depart.
When Satan tempts me to despair,
And tells me of the guilt within,
Upward I look, and see Him there
Who made an end of all my sin.
Because the sinless Saviour died,
My sinful soul is counted free;
And God the Just is satisfied
To look on Him, and pardon me.
Behold Him there! the risen Lamb!
My perfect, spotless righteousness,
The great unchangeable I AM,
The King of glory and of grace!
One with Himself, I cannot die,
My soul is purchased by His blood;
My life is hid with Christ on high,
With Christ, my Saviour and my God.
Charitie Lees de Chenez