Franklin Graham at Blackpool: The Festival of Hope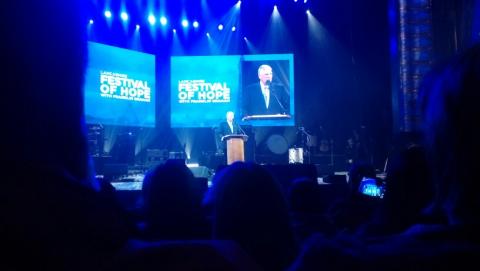 A number of us went to Blackpool's Festival of Hope this weekend by coach. I invited 30 local churches to come with us, and a couple of them responded, but there were still seats remaining. The Winter Gardens is a fabulous venue, and several thousand came on each day to hear Franklin Graham. 
The Message
Graham spoke well. He had his father's warm-hearted charm and clarity of expression. It was a winsome and sound gospel appeal. A couple of hundred responded to the message, filing down to the front to pray, though half that figure were presumably counsellors. He probably only spoke for 20-25 minutes or so. 
The Concert
The event was really a Christian concert, with Mr Graham speaking during a kind of interval in the middle. Dennis Agajanian and his brother stepped straight out of the 1880s to provide us with some old-time gospel Americana, while US Christian boy band The Afters seemed to dominate the evening. After the sermon, they called children on stage to ask if it was their 'first concert' and their volume was so loud the seats vibrated. The Tommy Coomes Band resembled the teaching staff of a university Art Department and sang Just As I Am as the penitents came forward. 
I'm glad I went and that we supported it, but it was definitely more a concert for under 30s with Franklin Graham added in, rather than the kind of event his father would have run.  
Opposition
A number of liberal churches in Blackpool had been objecting to the festival for months. They allegedly organised their own festival with 'inclusive' communion services. Presumably, these inclusive people had been vaccinated against irony as children, seeing as they were calling for Graham to be excluded from the country by having his visa revoked. The Blackpool Gazette reported several hundred protestors, but when we arrived there was none to be seen. I asked security on the way out if there had been any trouble. I was told that police had been called to remove an anti-fracking group. Perhaps they had misheard who was speaking, thinking one Mr Fracking Graham had come to persuade the denizens of Lancashire that extracting shale gas offered salvation to the county.
The angry brigade must have been sorely disappointed when it transpired Graham never even mentioned or alluded to them or their lifestyles in his sermon; I don't think it even occurred to him. The self-imposed status of victim was therefore not justified, and any protesting they did manage made them look unnecessarily defensive and prickly. Still, their 'liberal' virtues were satisfactorily signalled; Graham successfully preached the gospel; we that attended had an interesting evening, while the angels in heaven rejoiced at sinners being saved. Everyone's a winner.