Gayle's Good God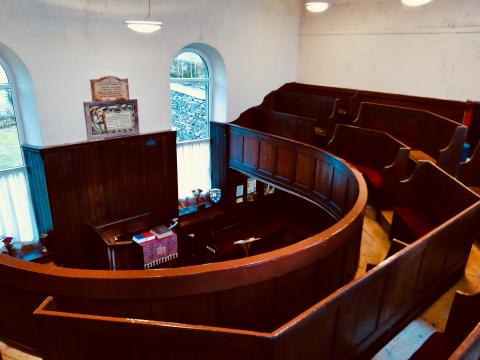 Gayle is a small village close by the Wensleydale Creamery in North Yorkshire. Tucked away among the cottages is a Methodist chapel. Unlike its sisters down the road in Hawes and elsewhere in the dales, this one remains open. Perhaps cut off from the anaemic liberalism infecting its urban brethren, this little chapel keeps its doors open.
Within, it's to a standard Methodist plan with huge pulpit, balcony, excessive woodwork as well as having that old chapel smell. On its wall however, is a more recent addition, quoting an eighteenth century hymn by Joseph Hart:
How good is the God we adore!
Our faithful, unchangeable friend:
his love is as great as his pow'r
and knows neither knows measure nor end.
For Christ is the first and the last;
his Spirit will guide us safe home;
we'll praise him for all that is past
and trust him for all that's to come.
This is the hymn which I hope to be sung at my graveside, for it is the one which, should it be within my choosing, will be on my lips as I die. Joseph Hart, its author, was once an opponent of Christianity, writing the The Unreasonableness of Religion in 1741. On his tombstone, however, in London's Bunhill Fields, is written 
Joseph Hart was by the free and sovereign grace and Spirit of God raised up from the depths of sin, and delivered from the bonds of mere profession and self-righteousness, and led to rest entirely for salvation in the finished atonement and perfect obedience of Christ.
I do not know what lies ahead for Gayle's Methodism, nor for Salem, nor for myself. But I know that the Alpha and Omega, who is worthy of both our praise and our trust, will see us safely home.
Therefore I say to you, do not worry about your life, what you will eat or what you will drink; nor about your body, what you will put on. Is not life more than food and the body more than clothing? Look at the birds of the air, for they neither sow nor reap nor gather into barns; yet your heavenly Father feeds them. Are you not of more value than they? Which of you by worrying can add one cubit to his stature?
Matthew 6