The Gladness of King George III
George III is one of those monarchs of whom I have been chiefly ignorant. I knew he suffered from 'madness', or mental illness as we today would call it, and that he was the king whose government lost America. Having visited his favourite home at Kew this summer, I decided to read John Clarke's 1972 biography; I was pleased to discover evidence of his spiritual life. 
His coronation, along with that of his young queen Charlotte, didn't get off to a great start. Someone forgot to bring the Sword of State and the Lord Mayor of London's had to be used instead. A large gemstone fell out of the crown during the ceremony with later critics suggesting this was a portent of his losing the colonial jewel in the crown twenty-three years later. Furthermore, there was a real expectation that the Stuart Pretender would challenge the King's champion, Lord Errol, for the right to the throne. Lord Talbot, the Lord High Steward, was tasked with riding into the banqueting hall on horseback to pay his formal respects to the newly crowned couple. On his way out, he would ride backwards, so as not to turn his back on the royal couple. Unfortunately, the horse had learned its lessons too well, and insisted on entering the room rump first- an unusual sight for a king bedecked in splendour.
Nevertheless, the King insisted on removing his crown when he received communion in the Abbey, signifying his respect for a King greater than he. He was known to go to his chapel where he prayed alone, his personal prayer book having the official supplication for 'our most gracious king' crossed out and 'a most miserable sinner' written over it. He was a staunch protestant who discreetly sought to make the Church of England less Catholic, refusing to say the Athanasian creed, the removal of which he unsuccessfully sought. Clarke calls him a puritan, he was well disposed towards the Methodists, and gave generous financial contributions for a protestant church for Germans immigrants. He supported education, hoping that one day every poor child in the country would be able to read the Bible. Benjamin Franklin, one of the founders of the American republic, described him as 'the best king any nation was ever blessed with'.
It's a pity George was not king in the 1640s. Eighteenth and nineteenth-century England was blessed to have such a man on its throne. Indeed, it was during his time that Salem Chapel was built.
The king's heart is a stream of water in the hand of the Lord; he turns it wherever he will.
Proverbs 21:1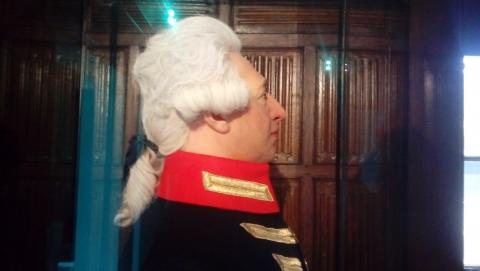 The pictures are of a full size wax model of George displayed at Kew Palace, London.