Going on together
There was a pair of Goosanders on the river last week, the male looking very smart in his breeding season colours and the female sporting a delightful tufty hairstyle.  Larger than Mallards, they are strong swimmers and feed on fish which they catch by swimming under water.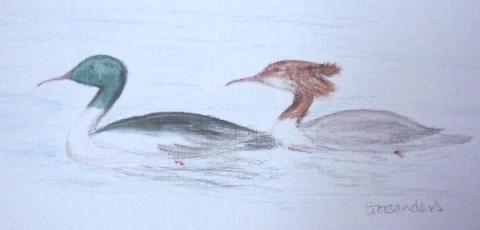 I watched them making their way upstream, never far apart, each seeming to keep an eye on the other, sometimes resting for a while in the calmer water by the bank, then, at some – to me – unseen signal, moving on again. 
I was reminded of the Israelites in the wilderness, always keeping an eye on the cloud which guided them, ready to move at any time.  Whenever the cloud was taken up from above the tabernacle, after that the children of Israel would journey; and in the place where the cloud settled, there the children of Israel would pitch their tents… At the command of the Lord they remained encamped, and at the command of the Lord they journeyed; they kept the charge of the Lord, at the command of the Lord by the hand of Moses.  (Numbers 9:17,23) 
Sometimes we might wonder at the way the Lord is leading us but however perplexing it might seem to us, we can rest in the certainty that He led them on safely, so that they did not fear (Psalm 78:53a).  As He did for Israel, so He does for us.  Let us keep close to the Saviour who shepherds us 'according to the integrity of his heart' and guides us 'by the skilfulness of his hands.' (Psalm 78:72)
Thy way, not mine, O Lord,
However dark it be!
Lead me by Thine own hand,
Choose out the path for me.
Smooth let it be, or rough,
It will be still the best;
Winding, or straight, it leads
Right onward to Thy rest.
I dare not choose my lot;
I would not if I might;
Choose Thou for me, my God,
So shall I walk aright.
The kingdom that I seek
Is Thine, so let the way
That leads to it be Thine,
Else I must surely stray.
Take Thou my cup, and it
With joy or sorrow fill,
As best to Thee may seem;
Choose Thou my good and ill.
Choose Thou for me my friends,
My sickness or my health;
Choose Thou my cares for me,
My poverty or wealth.
Not mine, not mine the choice,
In things or great or small;
Be Thou my Guide, my Strength,
My Wisdom, and my All.
Horatius Bonar