Gospel Forever!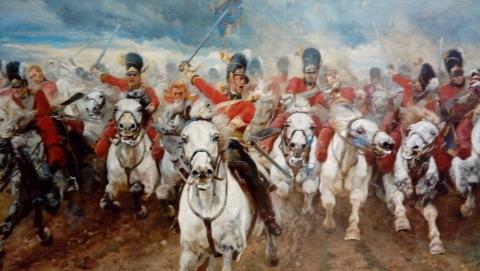 Scotland Forever! was painted by Lady Butler in 1881 and now hangs at Leeds Art Gallery. It shows the Royal Scots Greys charging at Waterloo. Despite some inaccuracies, such as the colour of the horses, the painting proved a real hit. Both Kaiser Wilhelm of Germany and the British Government used the painting in their Great War army recuitment drives, the former altering the uniforms, naturally. The image of brave, masculine men charging the enemy without any sign of fear was thought to inspire men of a later generation to sign up and fight.
Perhaps this is why so many Christians enjoy reading church history; the heroics of a former age inspire we saints of a lesser age to valiantly join battle. After the Bible, read Fox's Book of Martyrs; seeing those brave men and women face their deaths for Christ's sake will surely embolden us to better live for Him in our own day.
Stand up, stand up for Jesus,
the strife will not be long;
this day the noise of battle,
the next, the victor's song.
To him that overcometh
a crown of life shall be;
he with the King of glory
shall reign eternally.
-George Duffield