Harris Gallery: An Allegory Explained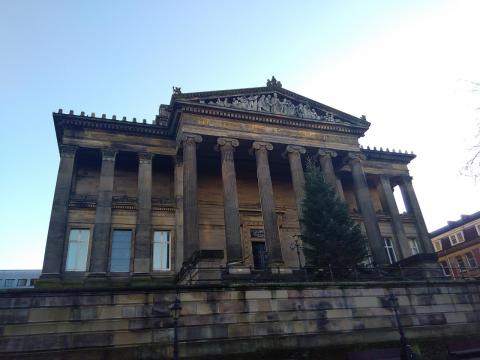 Hanging at the top of the main stairs in Preston's Harris Gallery is a large, imposing picture by S.J. Solomon (1860-1927). Not only was he one of the few Jewish members of the Royal Academy, he also contributed much to Britain's development of camouflage on the Western Front. His wisdom did not merely extend to matters martial; the aforementioned painting has profound spiritual meaning. It shows a recently deceased Christ, borne away for burial by angels. We know from the gospels that angels bore no such charge, but the painting is called An Allegory after all. In other words, it has a deeper meaning than that simply painted. Some naked figures loll about in a garden in the bottom left, whom I take to be Adam and Eve, though they both appear female. Perhaps Adam, in ceding his headship to Eve, relinquishes some masculinity. Above Christ's slumped head, however, sits an angry old man, imperious and scowling. He bears two stone tablets, which identify him as Moses. The Lord's upper body is almost between the two stones; Moses might clap them together at any time and crush Him.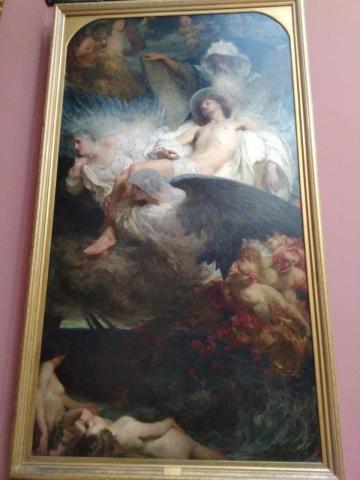 The Harris, unusually, offers no explanation or information board. It might have been too much trouble, or the curating staff might not have understood this complicated scene of characters. Certainly, Mr Solomon either embraced the gospel or had a profound understanding of it. When Christ was crucified for Adam and Eve's dreadful action, He stood condemned by God's moral law, succinctly epitomised in Moses' tablets. Though innocent of wrongdoing, Christ became the sin bearer, the recipient of all the Torah's curses and penalties. Beheld by stricken angels, the Christ died a law-breaker that the law-breaking heirs of Adam and Eve might be readmitted to the glories of a righteous heaven.
S.J. Solomon's wisdom may not have exceeded his regal namesake, but it is far greater than many can boast of today, for whom the painting is nonchalently or lazily regarded.