He Sends Out His Word and Melts Them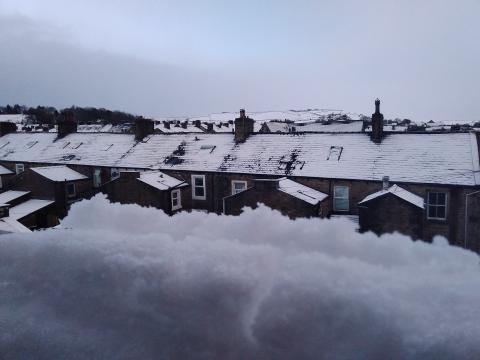 Our first snow of the winter came on Saturday night/Sunday morning. My first knowledge was a creaking and crashing sound in the night; I semi-dreamed that the roof had blown off. In fact, it was a pile of snow sliding off the roof onto the porch. I spoke at Heysham in the morning, a coastal village where the salty air and the milder seaside temperature gave the snow-clouds short shrift. There the fields were green and pleasant; in our uplands, the snow found a more favourable place to settle, and the fields and roads were carpeted white.  
The higher the elevation, the lower the temperature; the further up the hill one climbs, the chillier the walk. Many a time have I ascended a mount wearing shorts below but changed into trousers halfway up. Much as I dislike the snow, it is a testimony to the Creator's genius. Our planet has waters in all three of its states. 
In Psalm 147, the Psalmist uses the snow as an example of God's will and word:
15 He sends out His command to the earth;
His word runs very swiftly.
16 He gives snow like wool;
He scatters the frost like ashes;
17 He casts out His hail like morsels;
Who can stand before His cold?
The frozen northlands are as much His glory as the balmy tropics. Still, the frozen earth will thaw in the spring; He determined that the chilly regions will once more come to life:
18 He sends out His word and melts them;
He causes His wind to blow, and the waters flow.
I once heard someone object to Christina Rossetti's carol In the Bleak Midwinter. It's first verse goes 
In the bleak mid-winter
Frosty wind made moan;
Earth stood hard as iron,
Water like a stone;
Snow had fallen, snow on snow,
Snow on snow,
In the bleak mid-winter
Long ago 
Excessive snowfall is not a characteristic of the Holy Land into which the Messiah was born; the scene above is more reminiscent of northern Europe than the Middle East. Furthermore, Jesus was probably born in the April or September, not our solstice. However, I'm not sure she is describing the meteorological conditions of a geographic region, but the spiritual temperature and state of our age. Our cold-hearted race is iron-bound to sin and lifeless to spiritual things. Christ quickens and enlivens, defrosting our icy souls, 'sending out His word and melting them'. Rossetti's last line may be a little sentimental, but with her we may respond:
Yet what I can I give Him, —
Give my heart.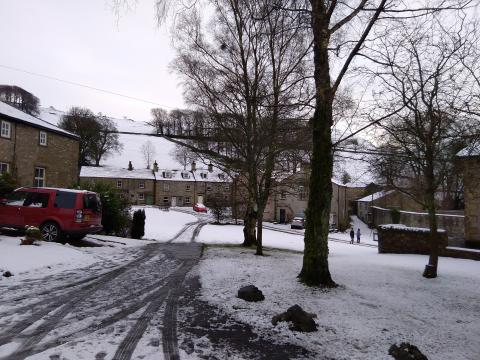 Top: Barnoldswick. Bottom: Langcliffe.