Homesick for Heaven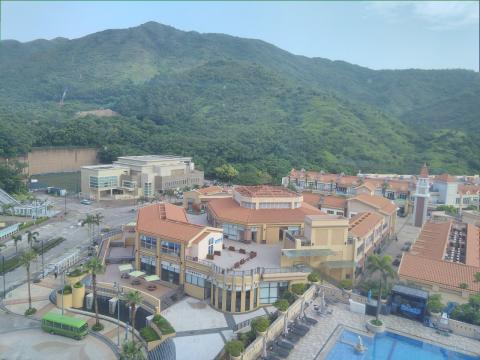 'Hong Kong International Airport saw chaotic scenes on a second consecutive day of massive anti-government protests that have paralysed one of Asia's key transport hubs', begins the BBC's latest Hong Kong news report. Other sources say reporters and policemen were attacked. I found the protestors courteous and even apologetic, offering food to weary and despondent passengers hiding behind the barricades. Naturally, the flight home was cancelled and I was safely removed from the airport. I find myself in a comfortable hotel overlooking a bay and mountains. I'm now due to escape Hong Kong on Friday, flying via Finland of all places, adding three more days to my stay. At face value, this is marvellous. Three more days in paradise: beaches, tree-covered mountains and the pool; luxury living, a whole range of restaurants and cafes to suit every taste. My hotel is close by Hong Kong's Disney Land, and it has themed itself- and its prices- accordingly. Great for kiddies and parents. Not so great for trapped, home-sick travellers.
Don't get me wrong, I'm no St John on Patmos. The hotel is much nicer than my home. The bathroom is encased in marble, the bed is far bigger than I'm used to and my window commands views of the Lai Pik Shan mountain and Discovery Bay, not the grey skies and rooflines of Barnoldswick. Nevertheless, living in a borrowed room is tedious. The pictures on the wall are not of my choosing and the settee is not as comfortable as my old leather one. I'd instantly swap this pleasant room for my terraced home in northern England. I'm bored of eating in restaurants, served interesting dishes by smiling waiters, eager to please. I long for a microwaved meal, a jam butty, fish and chips with ample vinegar and curry sauce. I've had enough of adding sachets of Coffee Mate to my tea and daily removing polythene wrapping from my soap.
The travel policy I bought does not cover problems caused by 'civil disobedience' (insurers will always outsmart the insured), so I pay for this hotel and meals myself. It isn't excessive, but it's yet another mounting bill. In reality, I've had enough of it all, and I just want to go home. I'm bored of this holiday. The heat is draining and there are better things I could be doing. I'd arranged a pastoral visit for Thursday and tomorrow is A-level results day when I should be advising Sixth Formers on their options. I'm preaching twice on Sunday but have no commentaries with which to prepare (thank God for the internet).
Of course, I may just be feeling sorry for myself. Yet when trials and difficulties occur, the Lord always has some greater purpose in mind. There may be benefits bestowed at such times which we can barely detect. One lesson I have learned is that my current experience is a fitting picture of the Christian life:
-Beneath the veneer of this pleasure-seeking, hedonistic world in which we live, are violence and oppression, a discontent and chaotic strife.
-The pleasures of the world are essentially empty and meaningless; the Christian tires of worldly amusement even when all others chase after it.
-The longer we stay on earth, the more it can cost us.
-We know that this temporal existence is not where we belong. Across the seas, through the air, is our real home, the place for which we were made and have been called.
If I am unfortunate enough to live a long life on this earth, I shall be reminded of this visit to Hong Kong. We pity those who die young, and are sorry for those taken in the summer of middle age. Should I be called home in the next few months or years, do not grieve, for:
This world is not my home I'm just a passing through;
My treasures are laid up somewhere beyond the blue.
The angels beckon me from heaven's open door;
And I can't feel at home in this world anymore.
Oh Lord you know I have no friend like you,
If heaven's not my home then Lord what will I do?
The angels beckon me from heaven's open door,
And I can't feel at home in this world anymore.
-Mary Reeves Davis
There's a land that is fairer than day,
And by faith we can see it afar;
For the Father waits over the way
To prepare us a dwelling place there.
In the sweet by and by,
We shall meet on that beautiful shore;
In the sweet by and by,
We shall meet on that beautiful shore.
We shall sing on that beautiful shore
The melodious songs of the blessed;
And our spirits shall sorrow no more,
Not a sigh for the blessing of rest.
To our bountiful Father above,
We will offer our tribute of praise
For the glorious gift of His love
And the blessings that hallow our days.
-Fanny Crosby