Hurry! Must End Soon!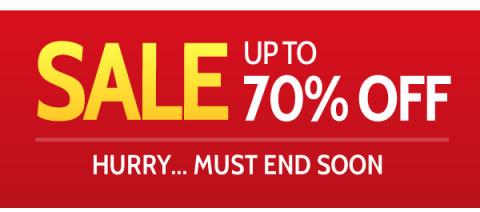 I've received a flurry of emails yesterday and today informing me that a sale is now on but I must be quick- for it MUST END soon. Oh no! What if it ends before I get there? What if everyone else snaps up the bargains? If you're after a reduced sofa, you may have missed the DFS December Sale, Double Discount Boxing Day Sale, the January Clearance Sale and the February End of Winter Sale, but don't worry, the Spring Sale starts in March.
Of course, it's all a nonsense. The items in the sales are those they couldn't flog before Christmas, either because no-one actually wanted them or because their prices were too high to start with. Anything you've done without until now you can probably do without a while longer. There is one thing in the universe for which potential customers must be quick and grab a bargain while the offer lasts- eternal life. The Lord Jesus is soon to return in judgement and God's 2000-year-old-offer of eternal life must end as the age of grace draws to a close. How many have postponed their getting right with God until their deathbed, only to realise their deaths came sooner than they'd planned?
"Truly, I say to you, the tax collectors and the prostitutes go into the kingdom of God before you" (Matthew 21:21). Don't be left behind while others receive something that might also be yours. Unlike the tawdry merchandise available in our crowded and sweaty shops, this product you really do need, and it will last forever.