Judge Walmsley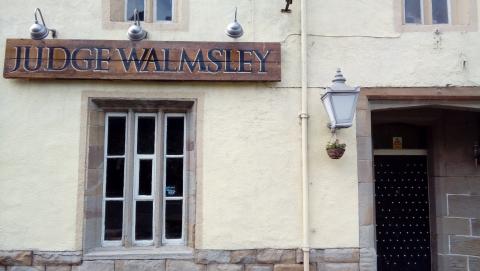 At Billington near Whalley is the Judge Walmsley pub. It is a rather unusual name, not the more typical Red Lion or Black Bull. Who was Judge Walmsley?
Thomas Walmsley lived until 1612 at the Dunkenhalgh, the stately home now famed for East Lancashire's golden wedding celebrations and those rather vulgar high school 'proms'. Under Walmsley's watch, I have no doubt it was a more serious establishment. Not only was he an Assize Judge (a Crown Court Judge in today's parlance) but he also represented the County in Parliament in 1588-89. The man was likely a secret Catholic. The fact that I suspect this centuries afterwards would suggest it wasn't such a great secret at all. His entry for the Dictionary of National Biography declares:
In 1583 he made before the court of common pleas a stout but ineffectual attempt to sustain the validity of papal dispensations and other faculties issued during the reign of Queen Mary.
In other words, he tried to argue that the Pope's laws made during Bloody Mary's reign retained their legal validity. Thankfully, his clever arguments failed. It goes on:
His reputation for learning was great, and he early evinced his independence by allowing bail in a murder case, contrary to the express injunctions of the Queen conveyed through the Lord Chancellor.
His independence? That's good in a judge, surely? Doing what he believes is right rather than what is popular -but is this the case? The Parliament website puts a different spin on the matter:
In 1591 it fell to Walmesley and Mr. Justice Clinch to try Thomas Langton and his associates for the murder of Mr. Houghton. As the sheriff was not thought to be 'indifferent in that cause', the Privy Council instructed Walmesley to supervise the composition of the jury, but his conduct in the event earned him a sharp reprimand from the Queen for allowing the accused bail contrary to her express command. She wondered 'how he dared presume so far, showing both contempt of her commandment, and little regard for the due administration of justice'. She ordered him 'at his peril' to have the parties immediately returned to prison, to proceed to a speedy trial without bail.
It turns out that Mr Langton, the murderer with friends in high places, was a fellow Catholic. Bail is seldom given to anyone facing so serious a charge- the stakes are so high they are certain to run. That Judge Walmsley would bail a fellow gentleman-Catholic suggests a degree of partiality to my mind. Langton got off in the end, and did not stand trial. Lancashire was then awash with Catholic recusants and Houghton's murder went unavenged, though his family were financially compensated by Langton's estate.
Walmsley did well for himself and retired to Dunkenhalgh where he was 'put to his pension', while enjoying a reputation for his independent judgement and great learning. Interestingly, his elaborate tomb in Blackburn Parish Church (now the cathedral) was destroyed in the civil wars- by puritan soldiers according to one source. Perhaps the 'independent judgement' and impartiality were under suspicion a generation later. In eternity, he stands before the Great Judge, who knows well the heart. Like his tomb, the Great God can destroy a man, though he be ever so well regarded in this world.