Langcliffe's fountain
Langcliffe's fountain stands in the centre of the village.  The octagonal base of the present day fountain dates from Victorian times; it was retained when the original fountain was converted to a War Memorial in 1920.  The design of a fountain surmounted by a cross was chosen by the relatives of the eleven men from the village who lost their lives in World War I and who are commemorated on the base.  Later the names of the four men killed during World War II were added.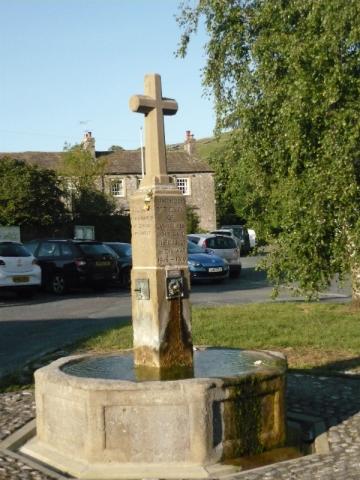 When I first came to the village I was told that no one is really a resident of Langcliffe until they have had a cup of tea made with water from the fountain.  Nowadays, of course, health and safety dictates that there must be an 'UNSUITABLE FOR DRINKING' sign displayed on it!
Be that as it may, I am reminded of a much more important fountain to which we each need to come:
In that day a fountain shall be opened for the house of David and for the inhabitants of Jerusalem, for sin and uncleanness.
                                                                                                                        Zechariah 13:9
But grace, sweet grace celestial,
Shall all its love display,
And David's Royal Fountain
Purge every sin away.
                        Bernard of Cluny
There is a fountain filled with blood
Drawn from Immanuel's veins;
And sinners, plunged beneath that flood,
Lose all their guilty stains.
The dying thief rejoiced to see
That fountain in his day;
And there have I, though vile as he,
Washed all my sins away.
Dear dying Lamb, Thy precious blood
Shall never lose its power,
Till all the ransomed church of God
Be saved to sin no more.
E'er since, by faith, I saw the stream
Thy flowing wounds supply,
Redeeming love has been my theme,
And shall be till I die.
Then in a nobler, sweeter song
I'll sing Thy power to save,
When this poor lisping, stammering tongue
Lies silent in the grave.
                                    William Cowper