Lessons from Crummackdale: Saxon Ruins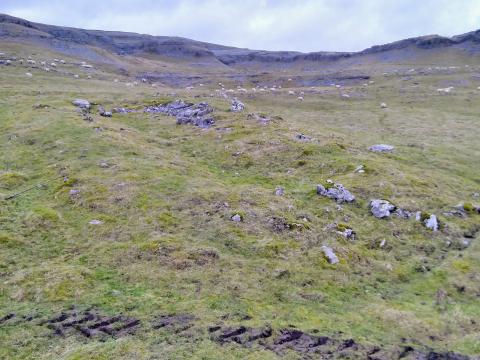 In Crummackdale lie some unusual bumps and lumps. Thankfully, my conjecture is not needed to account for them, for archaeologists have already set about their work. Here we have a Saxon farmstead dating to about 850AD. Various metal implements were found, like smithing tongs, and one of the building's long outlines can be clearly discerned. The two stones either side of the door are still in situ (bottom picture), and one can still walk 'into' the hallway of its Anglo-Saxon proprietors. Yet their quiet and peaceable lives in this verdant valley came to an end. Was it a Viking raid? A plague? A few years of famine? We know not, but their ruinous hamlet was never rebuilt.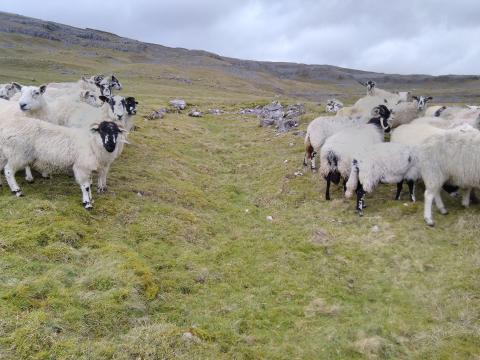 Isaiah prophesies to Israel that her ruined cities and towns shall be restored. This happened in a number of different ways after Assyrians and Babylonians attacked that land, but there is also a sense in which the Lord Jesus rebuilds ruinous lives. Wrecked by drugs, selfishness, hypocrisy, idolatry, or superstition, He redeems, restores, heals and rebuilds.
And they shall rebuild the old ruins,
They shall raise up the former desolations,
And they shall repair the ruined cities,
The desolations of many generations.
Isaiah 61:4
At Crummackdale lies a Saxon farm, never to rise again. Your life, on the other hand, though shattered and despoiled by sin, may be repaired and re-established, if you will yield to Christ.
1 Come, ye sinners, poor and needy,
weak and wounded, sick and sore;
Jesus ready stands to save you,
full of pity, love, and power.
2 Come, ye thirsty, come and welcome,
God's free bounty glorify;
true belief and true repentance,
ev'ry grace that brings you nigh.
3 Let not conscience make you linger,
nor of fitness fondly dream;
all the fitness he requireth
is to feel your need of him.
4 Come, ye weary, heavy laden,
lost and ruined by the fall;
if you tarry till you're better,
you will never come at all.
5 I will rise and go to Jesus!
He will save me from my sin.
By the riches of his merit,
there is joy and life in him.
Joseph Hart, 1759