The promise of snowdrops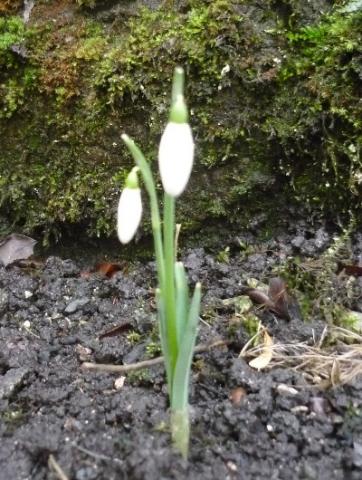 The snowdrops are out in my garden.  I like to see them, braving the weather, a promise of the coming Spring – even when, as sometimes, they are surrounded by snow.
And this week I have noticed that the midday sun is high enough in the sky to shine over the roof of the building opposite and brighten my kitchen once more.
Just little reminders of the faithfulness of our God!
Then the Lord said in His heart…
While the earth remains,
Seedtime and harvest,
And cold and heat,
And winter and summer,
And day and night
Shall not cease.
                   Genesis 8:22
Sing praise to God who reigns above,
The God of all creation,
The God of wonders, power and love,
The God of our salvation.
With healing balm my soul He fills,
The God who every sorrow stills -
To God all praise and glory!
What God's almighty power hath made
His gracious mercy keepeth;
By morning dawn or evening shade
His watchful eye ne'er sleepeth;
Within the kingdom of His might,
Lo, all is just and all is right -
To God all praise and glory!
I cried to Him in time of need:
Lord God, O hear my calling!
For death He gave me life indeed
And kept my feet from falling.
For this my thanks shall endless be;
O thank Him, thank our God with me -
To God all praise and glory!
The Lord forsaketh not His flock,
His chosen generation;
He is their Refuge and their Rock,
Their Peace and their Salvation.
As with a mother's tender hand
He leads His own, His chosen band -
To God all praise and glory!
Then come before His presence now
And banish fear and sadness;
To your Redeemer pay your vow
And sing with joy and gladness;
Though great distress my soul befell,
The Lord, my God did all things well -
To God all praise and glory!
Johann Jakob Schütz