The Rainbow (1858)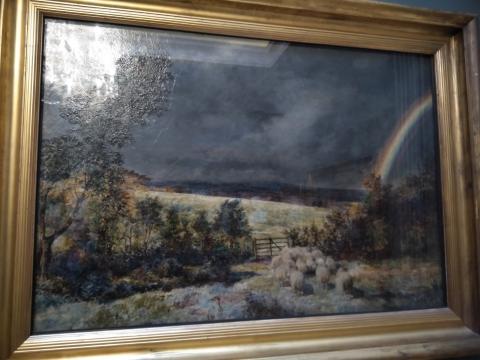 As I returned from Littleborough the other day, the most wonderful rainbow was to be seen at Todmorden. It was the brightest and most vivid I ever beheld, and it certainly alighted on one particular house, at least from my angle. If I were superstitious, I should have returned that night and dug up the garden.
In the 2020s, the rainbow as a reminder of God's mercy is understood by very few, having been claimed by liberal idealogues and those who faun over our national healthcare funding formula. Yet the orginal was a token given to mankind that though the rains still pour and the waters rise, never again will God flood the whole planet. In 1858, William Davis painted a landscape from the area around St Helens, with a glowing rainbow to the scene's right. John Ruskin, the respected art critic, sneered when he saw it, dismissing the rainbow as "an offensive daub". Thereafter, stung by the great critic's reproach, Davis rolled the canvas' right, concealing the bow until it was rediscovered in 1972. Now hanging at the Walker in Liverpool, the rainbow is restored to its rightful place.
Looking at the picture, I can see where Ruskin was coming from. There is a naivety about it; its position and boldness are reminiscent of a child drawing a picture with a new set of felt-tip pens. Yet the bow I saw in Todmorden was almost as gaudy and flashy as this; I would have pulled over to gape had there been some place to stop. For having seen the one, I now believe the other.
I wonder if Davis' painting is a little like our personalities. For having been unjustly scolded or criticised in our childhood or youth, we hide the most beautiful and characteristic portions of our natures. We conform to what the world calls 'normal'. In heaven, I dare say our worst traits will have been dissolved away, but we shall not be characterless simpletons or cardboard cut-outs painted white; our true personalities will be allowed to flourish and blossom, for not only will we be like Christ, we shall be more like what we should have been if Adam never fell. There, our lives will be unrolled and colourful rainbows will be allowed to beam.