Real Love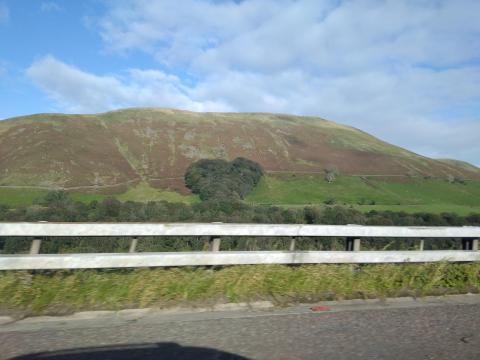 Motorists travelling the M6 will often see a heart-shaped woodland on a hill to the carriageway's east. Many romantic stories have sprung up about its origin, sometimes about broken hearted farmers, Cumbrian Romeos and Juliets, young lovers denied marriage by rival landed families. Hilary Wilson, whose family recently owned the plantation, attributes the shape to the land's physical characteristics and positioning of walls. In other words, the woodland is no amorous tribute to young couples, though such fanciful notions will continue to be told.
As I returned from chapel around the 14th February, I passed a pillar box wearing a crocheted hat. The woman (and yes, I presume it was a woman rather than a romantically inclined male) had made pink hearts accompanying an affectionate message to her targeted companion. Whether the offer was accepted, appreciated or even noticed I shall never know. She certainly went to a lot of trouble. 
John 15:13 says 'Greater love hath no man than this, that a man lay down his life for his friends'. It refers to the Lord Jesus dying on the cross to save sinners who would become His eternal companions. Many ignore and deride His powerful love and its visible expression; others misunderstand it or miscalculate its implications. Forget the soppy goo of Valentine's Day; behold real love.
"Herein is love, not that we loved God, but that he loved us, and sent his Son to be the propitiation for our sins." 1 John 4:10