The Red Lion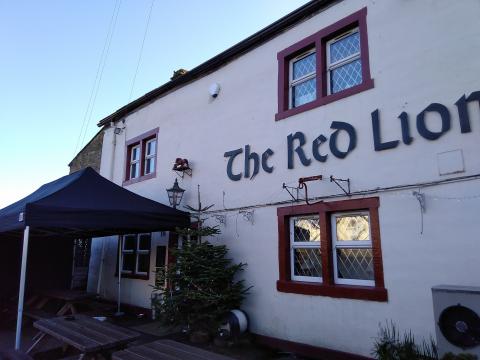 The Red Lion is perhaps the most popular English pub name, with over 600 establishments employing it. The nearest to the chapel is in Earby, rather neatly addressed at number 70, Red Lion Street. Why is it so common a name, especially as red lions do not actually exist? It's either a reference to John of Gaunt (died 1399), Duke of Lancaster upon whose badge was the red lion rampant, or to James Stuart, King of Scotland, who acceded to the English throne in 1603. In addition, red lions featured on many hundreds of aristocratic and local gentle families' shields- so this may be the real reason for so many Englishmen meeting for an honest pint 'down the Red Lion'. Disappointingly, for oddballs like me who have a love for both national heritage and sacred scripture, there are no red lions in the Bible. Still, when Israel speaks a final blessing to Judah in Genesis 49, we read 
9 Judah is a lion's whelp: from the prey, my son, thou art gone up: he stooped down, he couched as a lion, and as an old lion; who shall rouse him up?
10 The sceptre shall not depart from Judah, nor a lawgiver from between his feet, until Shiloh come; and unto him shall the gathering of the people be.
11 Binding his foal unto the vine, and his ass's colt unto the choice vine; he washed his garments in wine, and his clothes in the blood of grapes:
12 His eyes shall be red with wine, and his teeth white with milk.
Old Israel sees beyond his son, and beyond his tribe, to behold the Messiah Himself. Christ, the Lion of Judah, though intrinsically ferocious, will be drenched in red- a symbol of His own sacrificial death and the judgement upon His enemies at His second coming. His red eyes and white teeth speak of His righteous beauty. Truly, Jesus Christ is the Red Lion, wounded at Calvary, avenging all unatoned sin at His return:
I am he that liveth, and was dead; and, behold, I am alive for evermore, Amen; and have the keys of hell and of death.
Rev.1:18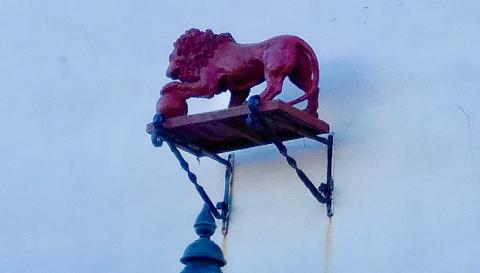 I have trodden the winepress alone; and of the people there was none with me: for I will tread them in mine anger, and trample them in my fury; and their blood shall be sprinkled upon my garments, and I will stain all my raiment.
Isaiah 63:3