Skipton Primitive Methodist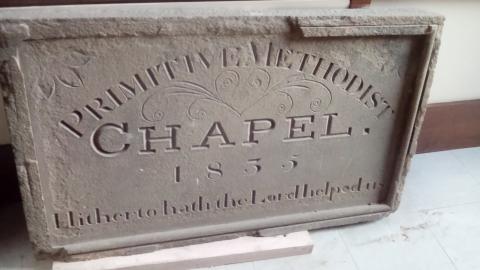 The picture above from taken in the Craven Museum and shows a date stone form Skipton's Primitive Methodist Chapel. It quotes 1 Samuel 7:12, a text that was dear to we at Salem in the year of our bicentenary: 
Then Samuel took a stone, and set it between Mizpeh and Shen, and called the name of it Ebenezer, saying, Hitherto hath the Lord helped us.
Yet is not something amiss? This chapel is now demolished and its date stone a museum exhibit. Did God break His promise to this church? Did He dishonour Samuel's unflinching trust? No. Samuel knew that God's past faithfulness was proof of his current faithfulness. This does not mean that He will always be bound to our institutions, nor that He will suffer apostate or lukewarm churches to keep existing. May we at Salem remain true to His word, that masonry from our chapel might not become historical artifacts. Remember, churches become museums many years before they close.