South Virginia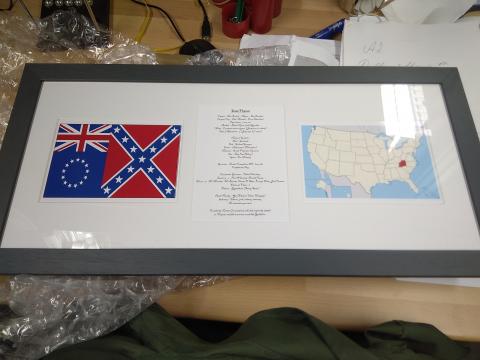 In 1971, John Denver sang:
Almost heaven, West Virginia
Blue Ridge Mountains, Shanandoa River
Life is old there, older than the trees
Younger than the mountains, blowing like a breeze.
Country Roads, take me home
To the place I belong
West Virginia, mounty mamma
Take me home, country roads 
My Politics A-level class, as was, created a rather lovely leaving present which they gave me before finishing school. When teaching about US politics, I often invoked a fictional American state- South Virginia- to illustrate some point or other. They kindly made a framed montage including a state flag, moto, map and a list of state dignitaries, many of whom happen to be class members. South Virginia's capital is New Barlick, and its largest city, Marsdenville. Its main industries are tobacco, gold mining and military hardware, and there are no restrictive gun laws. Knowing my world view, South Virginia is part of the Bible Belt, with the added explanatory note:
'Founded by puritan Lancastrians who had originally settled in Virginia and felt it was too much like Yorkshire'.
They know me well.
I have always wanted to visit the American South; I suspect it is my kinda place. That said, my last visits to Germany and Italy had me thinking of how happy I would be in their respective climes. Visiting Australia to see family set me a wondering about what life there would be like (the summers put me off). Even Ulster has struck me as a place in which I could quite easily settle down. Should ever my love for Mother England diminish, there are plenty of places to which I could emigrate. I suspect the grass is seldom greener on the other side, yet we all really long for the perfect place to live. Deep down, we all desire paradise. That is the home for which we were made and to which we rightfully belong. Sin did and does exclude us from entering, but Christ has reopened the way. Your deep dissatisfaction with your life, despite owning everything you want, is actually a yearning for Eden, for New Jerusalem, for God's presence. All Christians shall one day migrate to that fair land. It will even be better than South Virgina. Christ will take us home to the place where we belong. 
O sweet and blessed country,
the home of God's elect!
O sweet and blessed country
that eager hearts expect!
Jesus, in mercy bring us
to that dear land of rest;
who are, with God the Father
and Spirit, ever blest.
-Bernard of Cluny
(Country Roads lyrics © Reservoir Media Music)