St Warlburge's Spire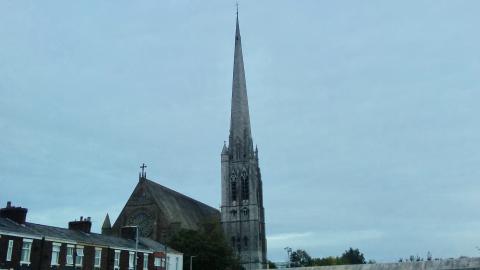 On my frequent visits to Preston, I have been attracted by a tall, slender church spire. One day I decided to walk to it from the centre. It belongs to the Roman Catholic church of St Walburge and has been a Preston landmark since 1854. Its spire is the third tallest in England, after the cathedrals of Salisbury and Norwich and it remains the tallest of any parish church. It is gracefully built of grey limestone, in contrast to the red sandstone of the attached sanctuary. It is known to glow red in the sunset, gracefully enhancing Preston's skyline.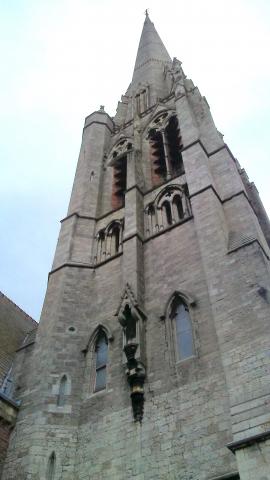 Spires are expensive to build and maintain. They serve little practical purpose, though they make good landmarks and trig points. The word may derive from the Saxon for spear or tall blade of grass. I would suggest they were more a display of wealth and civic pride that anything overly spiritual. One other explanation is that they are pointing to heaven, a reminder for us to look up and beyond rather than at earth. Sadly, many churches with spires seem not to preach the gospel of grace. St Walburge's for example, is described as 'a shrine for Eucharistic Devotion'. May we look up to where our spires point, but may we not necessarily share worship beneath them.
Built on the Rock, the church shall stand
even when steeples are falling;
Christ builds His church in ev'ry land;
bells still are chiming and calling,
calling the young and old to rest,
calling the souls of those distressed,
longing for life everlasting.
N. F. S.