Steep Roads, Hard Lessons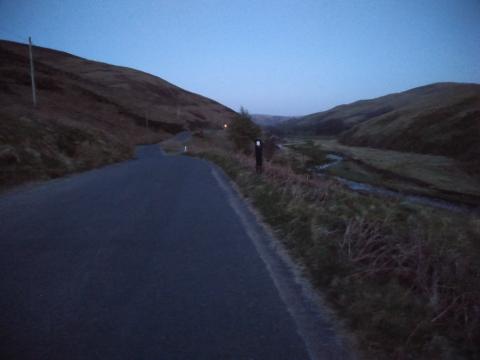 I went to visit my old Sunday School teacher last weekend. It was her eightieth birthday, and I took her some flowers. I was unable to enter and offer her a hug, but we spoke through the window. She lives at Bowerham, so I returned home by way of Wyresdale and Bowland, passing through the famous trough, then onto Dunsop Bridge, Newton-in-Bowland, Waddington and Clitheroe.
I was in a wistful mood as I drove. Seeing someone I loved attain such an age brought back memories. As I twisted and turned along those narrow lanes, I recalled a time about 17 years ago. I had few friends in East Lancashire and would drive to Lancaster at the weekends where most of my friends lived. I had not been driving long, and the prospect of motorway travel terrified me. Instead, I would take the direct, but slower route, through the hills. I recall my little four-gear, 1 litre VW Polo struggling to get up some of those steep inclines; I would have to swerve to avoid nonchalant sheep sitting on the tarmac and idiotic pheasants which ran along the road right in front of me, rather than veering into the verge. The road sometimes has a sharp drop at its side, a fitting reminder to steer carefully. Last weekend, I remembered how hard a drive it was, compared to the motorway, which requires significantly less thought (but no less concentration). That which we think is easy often turns out to be hard, and what we reckon hard transpires most pleasantly.
In Job 16:12, the suffering man declares:
I was at ease, but he hath broken me asunder: he hath also taken me by my neck, and shaken me to pieces, and set me up for his mark.
In chapter 1, when all seems well, he was actually preparing to endure the severest testing of his life.
In 2 Kings 6, when the Syrian army surrounds Dothan, the endangered prophet's servant cries "Alas, my master! What shall we do?". Elisha prays that the young man's eyes be opened, and we read:
The Lord opened the eyes of the young man, and he saw. And behold, the mountain was full of horses and chariots of fire all around Elisha
Though Elisha's prospects looked hopeless to all else, yet God was mightily undertaking his deliverance. Do not think the gentle path easy, nor the hard way something to be avoided. For when you are weak, you are most strong, His grace always being sufficient for you.