Strolling Past the Soldiers of Death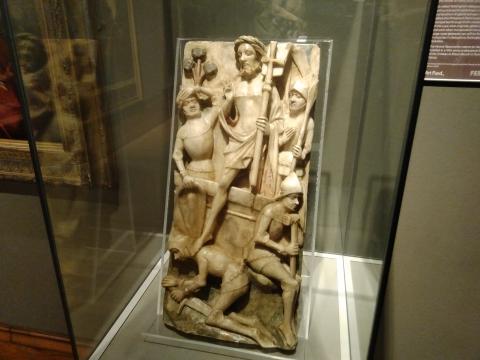 The Resurrection of Christ is an English alabaster carving dating from about 1450, displayed at Hull's Ferens Art Gallery. Christ steps out of a stone coffin rather a rock tomb, past Roman soldiers dressed like medieval men-at-arms. These were warriors all too familiar to Englishmen living through the Roses war. The one on the left rests his hand in his head in perplexity; one serves as a convenient footstep for the risen Christ as He climbs out.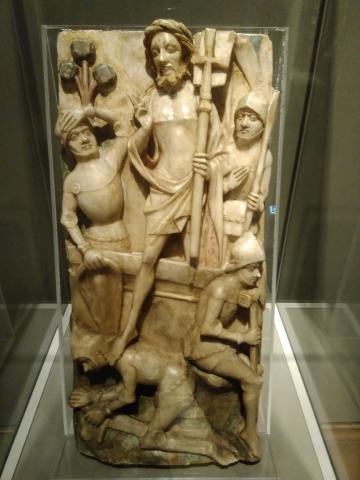 I rather like the depiction. It's cluttered and busy, as the many armed men stand back helpless as Christ walks past them, happily carrying his resurrection banner. In the years after the resurrection, the world's most powerful empire tried- and failed- to defeat belief in the Man who exited the tomb. Since the stationing of those soldiers to guard that place, armed men, powerful kings and dangerous thugs have tried their best to suppress the gospel. Just as this slender, alabaster Christ nonchalantly bypasses the very soldiers sent to guard Him, so the gospel itself cannot be silenced or destroyed, regardless of the thuggery and subterfuge ranged against it.
He has appointed a day on which He will judge the world in righteousness by the Man whom He has ordained. He has given assurance of this to all by raising Him from the dead. Acts 17:31