A strong tower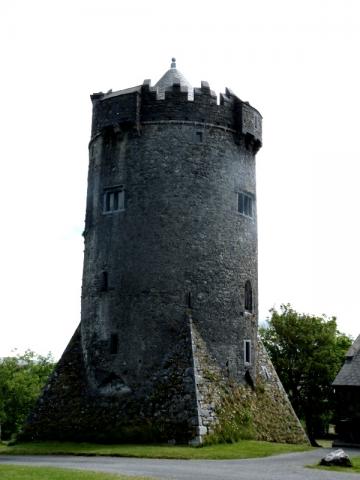 Newtown Castle near Ballyvaughan in County Clare is a fine example of a sixteenth century Irish tower house, home for many years to the O'Loghlens, 'Princes of The Burren'.  Tall and slender, with 12 feet thick walls at the base, narrow slit windows, gun loops and murder holes, it is perfectly constructed as a tower for defence.  Having fallen into disrepair, it was carefully – and, I must add, beautifully – restored about 25 years ago.  The fact of its restoration is both a tribute to the skills of the stonemasons and carpenters who worked on it, and a reminder of the transient nature of material security.
When my grandfather went off to France during World War I, he took his true security with him, hidden in his heart.  Before he went, he learned Psalm 91, not as some sort of talisman but to remind him of the nature of the God who knew and loved him, and to whom he had surrendered his heart and life.  A generation later, as World War II broke out, he and my grandmother encouraged my mother to learn the same psalm, and for the same reason.  As she lay in her bed at night, listening to the drone of German bombers on their way to drop their loads of devastation on Coventry, she would recall those words and remind herself that, child though she was, she knew that she was in the safekeeping of her Saviour, for time and for eternity.  Even 'the terror by night' and 'the arrow that flies by day' were under His control.   Hardly surprising, then, that Psalm 91 was one of the readings we chose for Mum's funeral earlier this year!
The name of the Lord is a strong tower; the righteous run into it and are safe.
                                                                                                                        Proverbs 18:10
Psalm 91
When your dwelling is secure in the Lord's Almighty shadow,
Our Refuge, our fortress, the God whom we trust,
From all terrors of the night, every day's tormenting arrows,
The wings of His truth as a shield hold you fast.
Through darkness we'll walk, even days of disaster,
Before we shall see our true home;
But if thousands may fall, who know not the Master,
The fate of the wicked He'll keep from his own.
Since you dwell in the Most High,
With My LORD you're bound together,
No plague of dread judgement can darken your home;
For His angels He has charged, they shall guard your path forever,
Borne up on their arms lest your foot strike a stone.
Satan will fall, though he roar like a lion:
Under your feet the Snake slain!
"For you love Me," says the Lord, "your heart is in Zion;
And I will exalt all who honour My name."
"When they call Me I will hear: every cry, and those unspoken,
So shall I be near them, till My Kingdom come:
Then deliver them to life, for My promise stands unbroken,
To share the salvation of Jesus My Son!"
William J U Philip