Swallows of Martin Top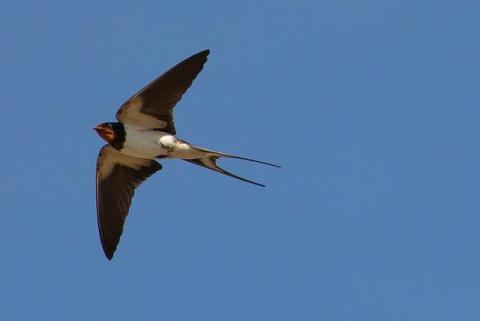 Swallows are a familiar sight in at Martin Top during the summer months. During the winter, they are nowhere to be seen, for they emigrate to South Africa to avoid our cold, only to return the following year. Why they go so far is not clear. Over France, through Spain, then the whole length of Africa, they fly. They travel 200 miles per day around this time of year to arrive at their balmy destination. Many do not make it. Storms, exhaustion and starvation kill off a great many before South Africa is reached. Yet many do make it- and live to return and to reproduce.
I sometimes wonder if I'll make it through my Christian life: sufficient illnesses and diseases to fill a dictionary; wars and accidents; dementia and old age looming; incompetent governments and ailing economies guaranteed. I will get through it, and I'll cross the final river in that faraway place, when at Martin Top I shall no longer be seen. As the swallows look beyond the Sahara to the joys of the Cape, so we too look beyond life's troubles to behold dwelling place of God:
There's a land that is fairer than day,
And by faith we can see it afar,
For the Father waits over the way
To prepare us a dwelling place there.
In the sweet by and by,
We shall meet on that beautiful shore;
In the sweet by and by,
We shall meet on that beautiful shore.
-FVA
Image by TheOtherKev from Pixabay