Transforming the People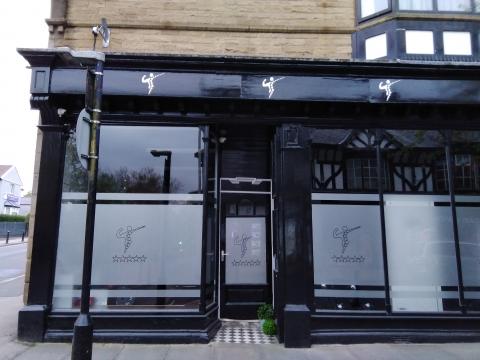 One of my favourite shops in town, a discount hardware store, was replaced last year by a gym. What used to be shelves of flower pots, tools and brushes now has windows permanently steamed up as panting body builders pump their iron. Clients may not be 'shtaying golden' in the company of Wes Visser, but the establishment makes an equally intriguing claim:
Proud to be transforming people of Barnoldswick
This person of Barnoldswick could do with some transformation. Over the past few months, I've done little exercise but cooked more and eaten better. The belly has grown accordingly, though it is still seemingly thinner than Heer Visser's thighs. The gym, called Kyle Longbottom's Fitness Management, is in the business of making fat people thin, weak people strong, bored people occupied. I suspect it also gives a great deal of mental pleasure, as physical exercise releases hormones and peptides around the brain. All very laudable.
The gospel of Christ offers no weight reduction, though North Korean prisoners of conscience have found it can be most effective in that regard. Whatever that gym offers and the transformations I have no doubt it orchestrates, Christianity offers more. When the apostle reflects to his son Timothy about this very issue in 1:4:8, he remarks
but godliness is profitable unto all things, having promise of the life that now is, and of that which is to come.
A steamy gym, conveniently located, may well transform and delight. On the other hand, churches have the very opposite effect in the popular imagination. Yet the good news of Jesus Christ gives real pleasure, transformation and hope in the here-and-now as well as stunningly wonderful consequences in the afterlife.
I hope the burghers of Barlick are truly transformed by this gym. But I hope many more are transformed by Jesus Christ.