True comfort
Some Yorkshire Dales villages – though not, I'm glad to say, the one I live in – have been very unwelcoming recently. Signs saying "Do you need to be here?" or "No entry. This village is closed" testify to the fear of many local people. Even when the sign looks pretty...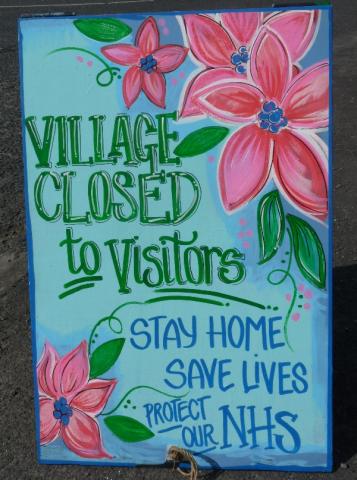 … the message is the same: "Go away. You might have a virus. We don't want you, or it, here, in case you infect us." Not the most comforting of messages!
And yet every resident of every village, or town, or city, is infected by something far more deadly than Covid-19, and has been since birth.
There is none righteous, no, not one; there is none who understands; there is none who seek after God. They have all gone out of the way; they have together become unprofitable; there is none who does good, no, not one… … For there is no difference; for all have sinned and fall short of the glory of God. (Romans 3:10-12, 23)
The Apostle Paul goes on to explain that through one man sin entered the world, and death through sin, and thus death spread to all men, because all sinned (Romans 5:12).
(Incidentally, theistic evolutionists, of which there are, apparently, increasing numbers in evangelical circles, must have difficulty with that verse, among many others!)
So is it all hopeless then? No indeed. We find, as we read on, some of the 'blessèd buts' of Scripture: But the free gift is not like the offence. For if by one man's offence many died, much more the grace of God and the gift by grace of the one Man, Jesus Christ, abounded to many… ...For as by one man's disobedience many were made sinners, so also by one Man's obedience many will be made righteous. Moreover the law entered that the offence may abound, but where sin abounded, grace abounded much more, so that as sin reigned in death, even so grace might reign through righteousness to eternal life through Jesus Christ our Lord. (Romans 5:12, 19-21)
So as I realise and acknowledge my sinfulness in the sight of a holy God, and turn in repentance and faith to the only Saviour He has provided, I find that the message is not, "Go away!" but "Come!" And He that thus begins a good work in me will complete it until the day of Jesus Christ! Surely there is both comfort and challenge in knowing that I am no longer my own, but belong to Him.
The Heidelberg Catechism, first published in 1563, asks as its first question: What is your only comfort in life and death?
Here is its answer:
That I am not my own,
but belong with body and soul,
both in life and in death,
to my faithful Saviour, Jesus Christ.
He has fully paid for all my sins
with his precious blood,
and has set me free
from all the power of the devil.
He also preserves me in such a way
that without the will of my heavenly Father
not a hair can fall from my head;
indeed, all things must work together for my salvation.
Therefore, by his Holy Spirit
he also assures me of eternal life
and makes me heartily willing and ready
from now on to live for him.