Waiting and ready
I was sitting in the sunshine up on the hill the other day, looking up at the sky.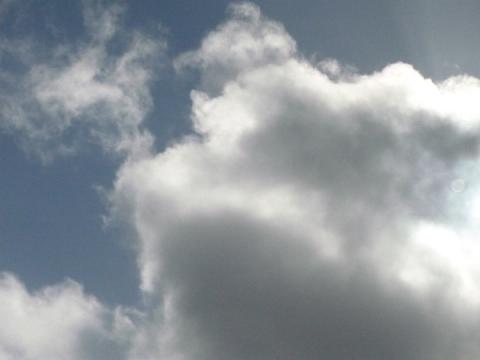 My mind turned to Paul's words to the church in Thessalonica: For this we say to you by the word of the Lord, that we who are alive and remain until the coming of the Lord will by no means precede those who are asleep. For the Lord Himself will descend from heaven with a shout, and the voice of an archangel, and with the trumpet of God. And the dead in Christ will rise first. Then we who are alive and remain shall be caught up together with them in the clouds to meet the Lord in the air. And thus we shall always be with the Lord. Therefore comfort one another with these words.   
(1 Thessalonians 4:15-18)
And what a comfort this should be! Just as the Lord Jesus came the first time in accordance with God's promise, so He will surely come again in accordance with His promise. Of course, He doesn't tell us exactly when He will come, and so we must be ready all the time.
"The doctrine of the Second Coming has failed, so far as we are concerned, if it does not make us realise that at every moment of every year in our lives Donne's question, 'What if this present were the world's last night?' is equally relevant." C S Lewis: The World's Last Night and other essays
What does that mean in practice? I am reminded of the story of the farmer who was ploughing his fields when someone asked him what he would do if he knew Jesus would return in the next half-hour. 'I'd finish my furrow,' he answered. No great heroics then; just a careful attention to the work we have been given to do.  Following the footsteps of the Master, not the drumbeat of the world. Walking in the truth, not living by lies.
"Prayer, love, hospitality, and humble service. How simple and satisfying to do these things as though they are the last things I will do on earth. To do them lovingly, faithfully, patiently this day and the next day and the next day… If so, the last day will take care of itself." David Roper: Teach us to number our Days
Blessed is that servant whom his master, when he comes, will find so doing. (Matthew 24:46)
"A little while" – the Lord shall come,
And we shall journey here no more;
He'll take us to His Father's home,
Where He for us has gone before,
To dwell with Him, to see his face,
And sing the glories of His grace.
"A little while" – He'll come again;
Let us the precious hours redeem;
No more to grieve and give Him pain,
Our joy to serve and follow Him.
Watching and ready may we be,
As those that wait their Lord to see.
"A little while" – 'twill soon be past;
Why should we shun the promised cross?
O let us in His footsteps haste,
Counting for Him all else but loss!
For how will recompense His smile
The sufferings of this "little while"!
"A little while" – come, Saviour, come!
For Thee Thy saints have tarried long;
O take Thy waiting pilgrims home,
To sing the new eternal song,
To see Thy glory, and to be
In everything conformed to Thee!
-J G Deck