Wythburn Church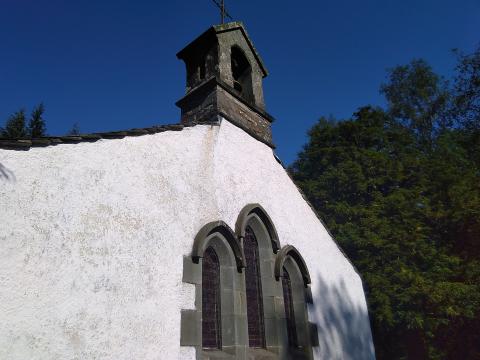 Wythburn Church sits on the lower slopes of Helvellyn. It once served a village, lost to the flooding of Thirlmere in 1894. Now it is a church without a community. Coleridge and Wordsworth gushed about, noting its modesty amidst so beautiful a setting. Ironically, it probably receives more people now than ever it did from 1640 when it was built. To its rear is a carpark from which walkers may begin their mountain climb or lakeside promenade. Visitors from around the world darken its doors, admiring its rustic charm. Sadly, there is little gospel witness within, though the unlocked doors are certainly welcome. It is a pity there is no book stand, or leaflet display, or information sheet explaining Christ's redemption. All you get is the building's history.
Few mid-week visitors will come to Salem Chapel with the same curiosity and delight as to Wythburn, yet we shall soon have two leaflet boxes outside our gates inside which is literature pointing to Christ. Yet each one of us should be prepared to share gospel light when the opportunity arises. Whereas the evangelist makes those opportunities, many who are mere witnesses should still heed Peter's instruction:
and be ready always to give an answer to every man that asketh you a reason of the hope that is in you with meekness and fear:
I was delighted to hear that only last week, one of our members passed a gospel tract into the hand of Prince Charles. Whether we meet a prince or a pauper, let us always be ready, and take whatever opportunity comes our way.