Ye Olde Trip to Jerusalem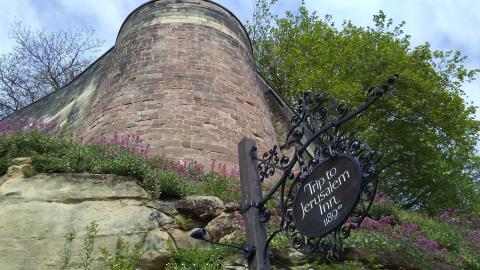 In Nottingham is Ye Old Tripe to Jerusalem. The Y in the word Ye is the old letter thorn, since dropped from the English alphabet. It makes a th sound, so it should be pronounced The Olde Trip to Jerusalem. It claims to be England's oldest public house, dating itself to 1189. There's little evidence for this and the building looks seventeenth-century, but it could be true. Nestling under the shadow of Nottingham's castle, it might have been a stop-off point for English knights journeying to join King Richard the Lionheart on his third crusade. A pint of small beer and a hearty dinner will have been welcomed by these travelling warriors.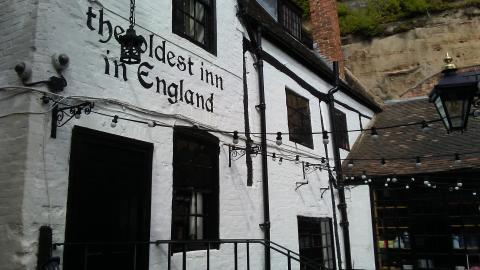 Generally, the third crusade was a failure; Jerusalem was not taken and it further cemented hostilities between East and West with which we are still living. The English king also ordered the massacre of 2,700 Muslim prisoners, confirming the brutality and godlessness of the 'Christians' in the Muslim eye. That trip to Jerusalem was at best pointless, at worst the scene of horrific war crimes and increased antisemitism at home.
Earthly Jerusalem is still pivotal in world history and will play an important part in the Lord's second coming. I have visited it and wish one day to return. But I long not for its hot stones and beautiful gardens. Rather, I long for the Jerusalem that is above, the Abode of Peace, our final destination. Sometimes the journey there is like a weary pilgrimage, other times like a raging battle, but the Lord provides refreshment along the way, for all who make Ye Olde Trip.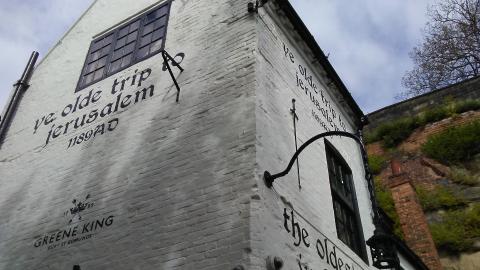 But you have come to Mount Zion and to the city of the living God, the heavenly Jerusalem, to an innumerable company of angels. Hebrews 12:22
Therefore the redeemed of the LORD shall return, and come with singing unto Zion; and everlasting joy shall be upon their head: they shall obtain gladness and joy; and sorrow and mourning shall flee away. Isaiah 51:11
Bernard of Cluny, a Frenchman quoted by the early Protestants for his denunciation of Roman Catholic corruption, was alive and well in the twelfth century when this Nottingham alehouse claims to have first served a drink. He wrote:
Jerusalem the golden,
with milk and honey blest,
beneath your contemplation
sink heart and voice oppressed.
I know not, O I know not,
what joys await us there;
what radiancy of glory,
what bliss beyond compare.
O sweet and blessed country,
the home of God's elect!
O sweet and blessed country
that eager hearts expect!
Jesus, in mercy bring us
to that dear land of rest;
who are, with God the Father
and Spirit, ever blest.