John Wesley
John Wesley 1703-1791
Brother of Charles Wesley, the hymn writer
Founder of Methodism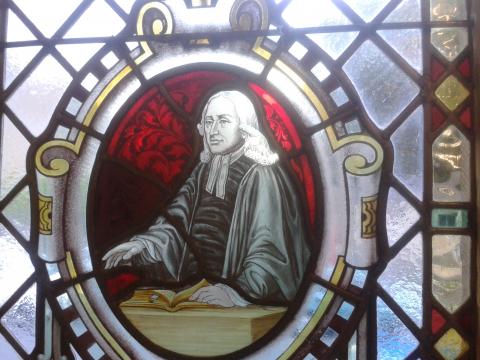 John Wesley, from a window at Waddington Methodist Church

Biography
Born Epworth, Lincolnshire. Became an Anglican clergyman and an Oxford Fellow. Founded the Holy Club at Oxford, and became a missionary to Georgia, having failed to become the Headmaster of Skipton Grammar School.  All this before his conversion 24 May 1738 whilst hearing Luther's commentary on Galatians being read aloud; said he 'felt his heart strangely warmed'. He preached in the open air to audiences estimated in the tens of thousands after Anglican pulpits were closed to him.
Achievements
An early opponent of slavery- gave up drinking tea and sugar because of it.
Wesley travelled over 250,000 miles by horseback in his lifetime—that's ten times the circumference of the earth.
He preached over 40,000 sermons, and published 5,000 times.
At his death in 1791 his followers numbered 79,000 in England and 40,000 in America, but by 1957 there were 40 million Methodists world-wide.
Almost certainly the main reason for England not repeating France's revolution.
Contrast the godless early 18th century with the godly 19th Century; evangelicalism became mainstream.
Controversy
Arminian- rejected Calvinism and predestination, though said he and Calvinism were only a 'hair's breadth apart'.
Taught 'entire sanctification'.
Determined to keep Methodists members of the Church of England, but in America ordained his own clergy and bishops.
Had a bad marriage- he may have been the victim of domestic violence
Quotes
Catch on fire with enthusiasm and people will come for miles to watch you burn.
Earn all you can, save all you can, give all you can.
Beware you be not swallowed up in books! An ounce of love is worth a pound of knowledge.
Though I am always in haste, I am never in a hurry.
Certainly this is a duty, not a sin. Cleanliness is indeed next to godliness.
Once in seven years I burn all my sermons; for it is a shame if I cannot write better sermons now than I did seven years ago.
The best thing of all is God is with us.
The Bible knows nothing of solitary religion.
Do all the good you can. By all the means you can. In all the ways you can. In all the places you can. At all the times you can. To all the people you can. As long as ever you can."
What one generation tolerates, the next generation will embrace.
Vice does not lose its character by becoming fashionable.
God grant that I may never live to be useless!
You have one business on earth – to save souls.
By salvation I mean not barely according to the vulgar notion deliverance from hell or going to heaven but a present deliverance from sin a restoration of the soul to its primitive health its original purity a recovery of the divine nature the renewal of our souls after the image of God in righteousness and true holiness in justice mercy and truth.
Not, how much of my money will I give to God, but, how much of God's money will I keep for myself?
There are many doctrines of a less essential nature . . . In these we may think and let think; we may agree to disagree. But, meantime, let us hold fast the essentials . . .
Foci
The new birth; sanctification; evangelism