'He Frequently Sung': St Mary's, Nottingham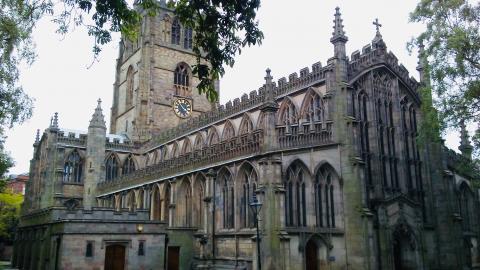 In St Mary's churchyard, Nottingham, lies the grave of a Christian. That's obvious, I hear you say, that's where Christians are buried. Well, I'll wager a guinea that there's many an occupant of those graves who now regret their lack of real, saving faith. So what makes Daniel Robinson stand out? 
'He frequently sung'. 
A strange boast to make, especially at a time when most attended church and sang the hymns. Perhaps Mr Robinson had a reputation for singing all the time. I doubt he had a Music Hall act; he may not even have made the choir. But the preceding words indicates the nature of his faith and reason for his melody:
The last fifteen years of his life
Spent entirely devoted to his heavenly Father
And laboured hard to win souls to Christ.
He died triumphant
In the name of his blessed Saviour.
Wow- what an epitaph. Would that so glorious a tribute be said of me. Perhaps Mr Robinson had in mind Psalm 59:16: 
But I will sing of thy power; yea, I will sing aloud of thy mercy in the morning: for thou hast been my defence and refuge in the day of my trouble.
The people of God are a singing people. Singing relieves stress and helps put sound to otherwise unspeakable thought and feeling. We were made to sing, and to glorify our Creator with our voices.