Aaron's Beard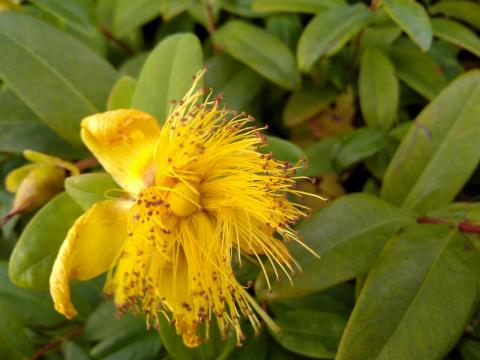 This pretty flower is called Aaron's Beard. I beheld it growing on the promenade at Grange-over-Sands. The reason for its name can be seen quite clearly. Psalm 133 reads:
Behold, how good and how pleasant it is for brethren to dwell together in unity!
It is like the precious ointment upon the head, that ran down upon the beard, even Aaron's beard: that went down to the skirts of his garments;
As the dew of Hermon, and as the dew that descended upon the mountains of Zion: for there the Lord commanded the blessing, even life for evermore.
The psalmist praises the virtues of unity, employing two unusual pictures to illustrate his point: pouring oil over Aaron and dew falling upon the mountains.
Aaron was the brother of Moses, the first High Priest. Here, he is seen anointed with oil in such generous quantity, that he is almost covered, even his skirts and beard drip with it. The morning dew allows life and growth even on the hilltops where streams and brooks flow not. In a hot, arid summer, the dew allows for greenery in places which would otherwise be parched brown.
Anointing means many things in scripture, including being set apart (2 Kings 9:6) and protected (1 Chron 16:21-22). It is also a sign of richest Messianic blessing, to which the Aaronic priesthood pointed.
God's people are disparate bunch, yet in the Anointed One's embrace, we are united. The blessings of God flow down to us from Christ; in Him are we bound and cohesive.
On all His chosen ones
The precious oil comes down:
Anointing as it runs,
Anointing on and on.
E'en to His skirts (the meanest name
That longs to love the bleeding Lamb).
From Aaron's beard it rolls,
(Those nearest to His face),
The humble, trembling souls
Who know abundant grace;
The grace, the grace for all is free,
For, lo, it reaches now to me!
-Charles Wesley