Acton Heads in Prayer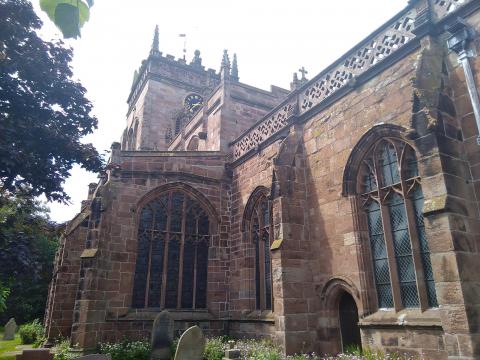 I called at Acton Parish Church in Cheshire. The church was locked, but a sign offered the vicar's phone number, which I tentatively called. She was just about to take a Zoom assembly at a nearby primary school, but she generously came out with a key so I might let myself in. And what a treasure trove it opened. Inside was a recumbent tomb of a medieval knight; across the nave, one of a civil war veteran. All manner of interesting content kept me engrossed for some time. The good vicar might have wondered I had run off with her key.
On the south-east was a collection of broken stones, upon which were ancient carvings which I assessed as Saxon. One showed a bishop with his crozier; another, a large, seated man with hand raised in blessing, which is likely Christ. Another had three heads, which resemble particularly gormless cartoon characters. I am sure the Saxon sculptor tried his best, but the faces I found amusing. Dr Henry Mayr-Harting, a far more serious and scholarly interpreter of Saxon art than I, suggests they are praying saints, on account of their open mouths and nearby vine, representing Christ. I suppose it's quite hard to sculpt in stone a talking head. Their wide-open eyes and mouths ajar may appear foolish to ill-informed visitors but they speak to a powerful God. Indeed, when any of us pray, we look daft to an unbelieving world. And when I write pray, I am not referring to that trite practice of confusing prayer with thoughts, as in '#PrayingForManchester' or 'she is in our prayers'. I mean actual, communicating with God, praising Him and requesting further tokens of His goodness. To gentiles, we are just fools talking to the air; to heaven's God, we are children talking to a Father.
For this cause everyone who is godly shall pray to You
In a time when You may be found;
Surely in a flood of great waters
They shall not come near him.
Ps 32:6