All Made Up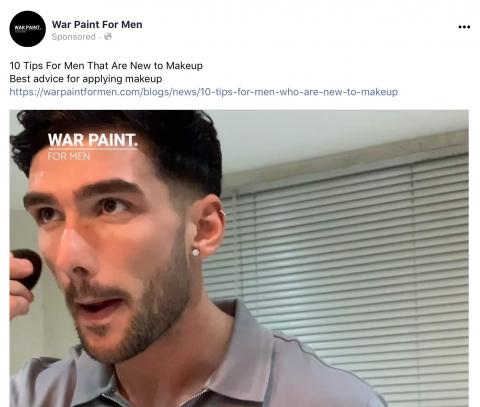 I was amused to see an online advert for men's makeup, a product usually associated with femininity. To ensure that no potential punter's masculinity is compromised, they employed bearded model Brandan Stevens to be pictured applying it in front of his bathroom mirror. Furthermore, they named it the reassuringly matcho War Paint for Men. The ad linked to an article entitled Top Tips For Men That Are New To Makeup. It might be easy for someone of my age and disposition to regard this in a sneering, disparaging way, which indeed I do. Yet were I twenty years younger and searching for a suitable mate, I might be more openminded. I've often reasoned that if an old barn looks the better for a lick of paint, why not a woman. Or a man.
I am not going to launch into some diatribe against the ethics of makeup; readers can consider these for themselves. Facepaint, like clothes, hairstyles, manners and accents, are a means of portraying us in a particular way to our intended audience. Yet we should consider Him who sees the heart. It cannot be improved with rouge or a correctly ironed shirt. God observes our character- or lack of it. Peter urges his readers to improve their inner selves, where human gaze cannot venture:
add to your faith virtue, to virtue knowledge, to knowledge self-control, to self-control perseverance, to perseverance godliness, to godliness brotherly kindness, and to brotherly kindness love. (2:1:5-7).
When painted flesh is rotted and bones lay a-crumbling, these 'improvements' will live on.