All roads lead to...
It was a grand morning for a bike ride, warm and sunny with just a gentle breeze. I could look for blackberries too, especially if I went via Rome – and don't all roads lead to Rome?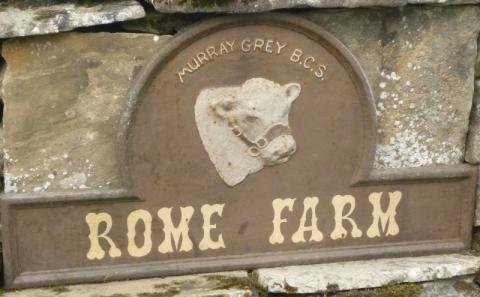 People often think that many roads lead to heaven. The Lord Jesus, however, tells us something different:
I am the way, the truth, and the life. No one comes to the Father except through Me. (John 14:6)
And again:
Enter by the narrow gate; for wide is the gate and broad is the way that leads to destruction, and there are many who go in by it. Because narrow is the gate and difficult is the way which leads to life, and there are few that find it. (Matthew 7:13-14)
How do we enter by that narrow gate? By realising our utter sinfulness in the eyes of a holy God, the just Judge who is angry with sinners every day, and by coming in repentance and faith to the cross of Calvary, where the Son of God suffered and died and shed His precious blood to make atonement for all who will come to Him.
To enter the narrow gate and walk the narrow way with the Saviour is the only thing that really matters, for time and for eternity. How vital then that we do not delude ourselves, for, as Bunyan wrote at the end of the first part of Pilgrim's Progress: Then the Shining Ones took Ignorance up, and carried him through the air, to the door that I saw in the side of the hill, and put him in there. Then I saw that there was a way to hell, even from the gates of heaven, as well as from the City of Destruction!
Therefore, brethren, be even more diligent to make your calling and election sure, for if you do these things you will never stumble; for so an entrance will be supplied to you abundantly into the everlasting kingdom of our Lord and Saviour Jesus Christ.   (2 Peter 1:10-11)
Surely Christ our griefs has borne,
Contrite soul, no longer mourn;
View Him bleeding on the tree,
Bearing utmost agony:
There your every sin He bore,
Weeping soul, lament no more.
Cast your guilty soul on Him,
Find Him mighty to redeem;
At His feet your burden lay;
Look your doubts and cares away;
Now by faith the Son embrace,
Plead His promise, trust His grace.
Lord, Thine arm must be revealed,
Ere I can by faith be healed;
Since I scarce can look to Thee,
Cast a gracious eye on me!
At Thy feet myself I lay;
Shine, O shine my fears away!
A M Toplady