And He was Speechless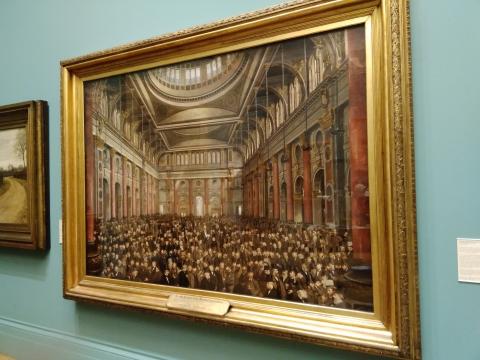 This large picture hanging at Manchester Art Gallery is the Interior of the Manchester Royal Exchange, painted by Sargent and Saunders in 1877. It is really a who's who of Victorian Manchester, with the various manufacturers and cotton magnates resplendent in top hats and tails. The two artists made a point of including everyone, so the town's most important oligarchs might view the picture in the hope of identifying themselves.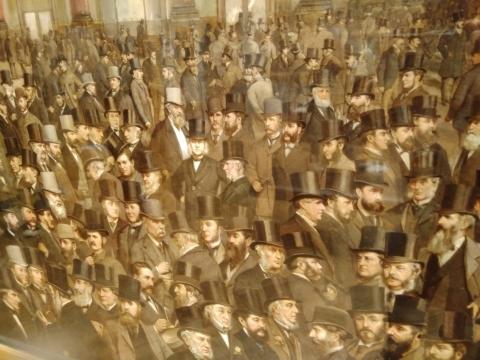 Yet what's going on in a far-off section? A behatted gentleman points someone out to a uniformed officer, who is Daniel Bancroft, the ticket inspector. Someone, unidentified, is about to be ejected from the Exchange, for not having their subscription paid. No ticket, no trading; not here, anyway. How embarrassing, how ignominious. More terrifying than being asked to leave so gentlemanly a gathering, are the words of Jesus in His parable of the wedding feast in Matthew 22:
11 "But when the king came in to see the guests, he saw a man there who did not have on a wedding garment. 12 So he said to him, 'Friend, how did you come in here without a wedding garment?' And he was speechless. 13 Then the king said to the servants, 'Bind him hand and foot, take him away, and cast him into outer darkness; there will be weeping and gnashing of teeth.' (NKJV).
He concludes with
"For many are called, but few are chosen."
I do not think any will be asked to leave heaven for want of outfit, but there are some who will never enter it even though they expected to be there. Only those clothed in Christ's righteousness will partake of heaven. Those wrapped and attired in their own works and goodness will find such scanty rags unbecoming so stately and august an occasion as the Lamb's Wedding Supper.