And Hope to Meet Again
I must confess, I've rather enjoyed 'isolation' so far. I've read books, pottered about, sorted, tidied, arranged and ordered. I've even run out of furniture polish, such has been my level of industry. I spent an hour Saturday afternoon sawing wood for the fire. The cellar is swept, the shed almost tidy, the wheelie bins are full, and pictures waiting months to go up are now hanging beautifully. Plants are re-potted, letters written, sermons filed. How very satisfying.
School-wise, my inbox is dealt with, work set, lessons planned and ready to be sent home. I'm soon to prepare new topics and create resources further ahead of schedule than I normally would. How very satisfying. 
Church-wise, sermons continue to go up on the website, the blog is added to thrice daily and our little patch on the world wide web has never been so popular. Despite the restrictions, the Lord's people have continued to meet through the media of laptops, phones and tablets. We've prayed together, studied together, communed together. How very satisfying.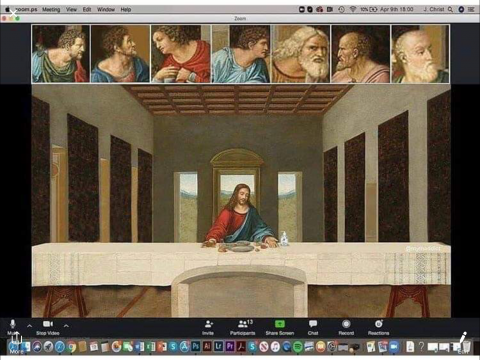 But it's not really. It's not very satisfying at all. Our familiarity and competence with video conferencing sites like Zoom increases with each meeting. Indeed, we had more 'attend' last week's prayer meeting than we'd usually have in the flesh. But it's still not satisfying. God's people were meant to keep company with each other. Denied the society of our Lord until death, the local church is to provide the fellowship and embrace we so often crave. Staring into a screen and speaking into a microphone just isn't the same. Our communion service was appreciated by those who participated, though it may have appeared we just ate a piece of break and sipped from a glass in our homes. We were not eating of the same loaf nor drinking of the same cup. Doubtless, it was better than nothing, and not bothering at all could hardly be more edifying. 
No, the Christian needs proper fellowship. Websites, YouTube, Christian TV channels and magazines are all lovely and have their place, but face-to-face fellowship is priceless and is a commodity we Western believers have valued too lightly for so long. Too often we missed meetings, or lazy pastors reduced the number of Sunday services to give themselves an easier ride. Now we are apart, goggling at pixels, I miss being in a room together, a handshake, a conversation, a twinkling eye. I miss someone's cough, a careless dropping of a hymnal, the interruption of a latecomer. Those who claim that we are simply 'doing church differently', or engaging in a 'fresh expression of worship', merely demonstrate the mush between their ears and a dearth of real spirituality.
John Fawcett's hymn of 1782 expresses well our desire to meet together:
Blest be the tie that binds 
our hearts in Christian love; 
the fellowship of kindred minds 
is like to that above.
We share our mutual woes, 
our mutual burdens bear, 
and often for each other flows 
the sympathising tear. 
I'm glad of Zoom, Skype, Facebook and rest of the panoply of apps, platforms and sites. But satisfying they're not. Give me soon the fellowship of the saints:
When we are called to part, 
it gives us inward pain; 
but we shall still be joined in heart, 
and hope to meet again.
Till then:
Come, my people, enter your chambers,
And shut your doors behind you;
Hide yourself, as it were, for a little moment,
Until the indignation is past. (Isaiah 26:20)