Arrow Marks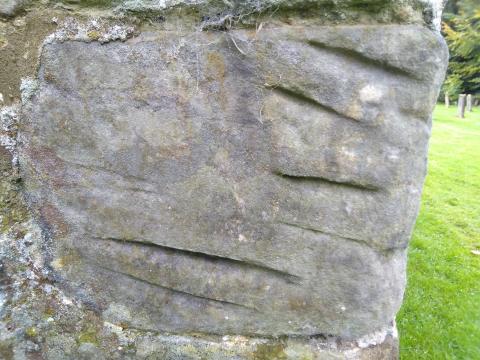 Outside many of the old churches I called at last month, such as Stonedale Minster (above), were strange grooves or gouges in the masonry. Some are longer than others, but they seem to be commonplace, especially by the doors. One explanation is that they are 'arrow marks'. Edward III wished to increase the pool of competent archers during the Hundred Years War with the French, legislating in 1363 that every male villager:
'if he be able-bodied, shall, upon holidays, make use, in his games, of bows and arrows…and so learn and practise archery'.
It is said he tried to ban football so archery might become the more popular sport. Several villages have archery related names, such as the Butts in Barnoldswick, where the medieval men would practise shooting their bows. As church buildings were often the only structures built of stone, and their churchyards the source of the yew trees from which their bows would be cut, it is natural that they should sharpen their arrow heads on the walls. Others suggest that the villages' womenfolk may also have come to sharpen their knives, which may be likely.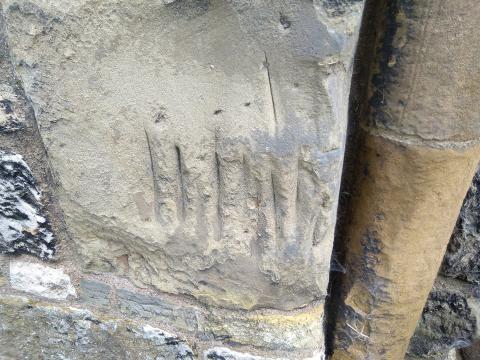 Above: Hovingham, North Yorks
James Wright, on the Triskele Heritage site, doubts this interpretation, noting the presence of these markings on continental churches where King Edward's archery laws did not extend. Furthermore, a number of these grooves also appear inside church buildings, such as St Mary's at Thirsk, in the Vale of York (below). They are found in the chancel, in the wall by the altar, the place medieval folk would have reckoned most sacred. Perhaps it was where swords, knives and arrows were indeed sharpened, but in the hope that the more sacred the stone, the more likely the fight would be won. We shall never know.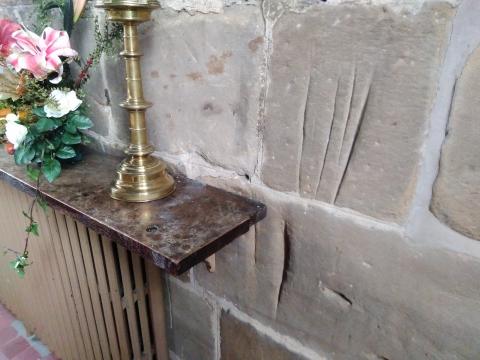 Yet there is, naturally, a spiritual message here. As Proverbs 27:17 declares:
Iron sharpeneth iron; so a man sharpeneth the countenance of his friend.
Imagine meeting with not just one friend, but several dozen, each week, during which time we sharpen each other, support each other, and lend each other strength. This we call fellowship and it is one of the reasons that Christ's people attend church. If your sword is dull and your spirit lethargic, come and be enthused and revived in the company of fellow believers. Come and whet your arrows ahead of the next great fight.
Not forsaking the assembling of ourselves together, as is the manner of some, but exhorting one another, and so much the more as you see the Day approaching. Hebrews 10:25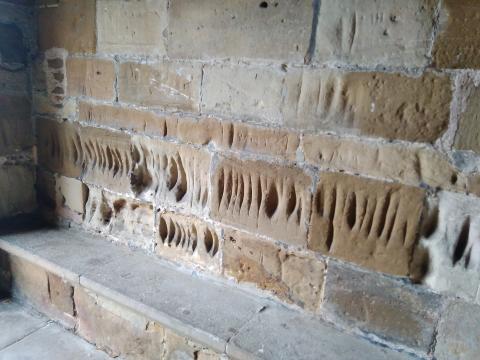 Thirsk's porch