Battle of Boroughbridge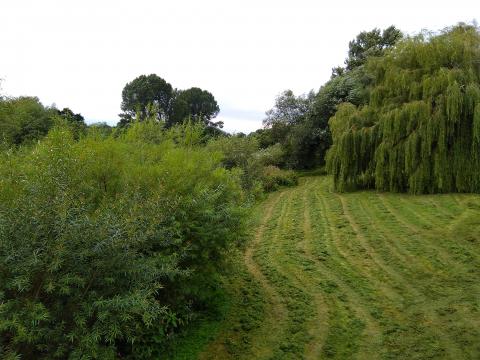 Relatives and I visited the site of the battle of Boroughbridge in North Yorkshire. What was now a pleasant riverside picnic area was, in 1322, a bloody and grisly medieval scene of slaughter. Edward II, the weak Plantagenet king, defeated certain barons who were unhappy with his rule, led by Thomas Earl of Lancaster. Thomas was the richest noble in the land, and possessed Clitheroe castle, the Lordship of Bowland as well a being our county's Sherriff. After surrendering at Boroughbridge (to Adam de Harclay, funnily enough, who came off little better), he was taken to Pontefract and beheaded for treason. All standard fare, apart from the later campaign to have Thomas declared a saint by the Pope.
Three times did King Edward's son (Edward III) petition the Pope to canonise his late cousin, and it was certainly debated and supported in Parliament. One chronicler wrote that a blind priest had a dream for three nights that if he went and prayed at the place of Lancaster's execution, he would be able to see again, which, naturally, occurred. Then, a drowned child was miraculously revived after being dead for three days when it was placed on the tomb of the dead noble. More likely, these supposed miracles were fabricated so the monks of Pontefract Priory, where his body lay buried, might cash in on their royal connection. As Edward II's reign went from bad to worse, he who publicly opposed the government was reckoned a hero and a martyr. There is certainly little evidence of especial piety shown while he lived.
Beware of hailing people as heroes or saints when their causes become fashionable. It is not whether circumstances, parliaments or Popes consider someone worthy, but God alone. Only Christ's shed blood can make a man a saint, and not for any merit or virtue on his part.