Beyond the Bubble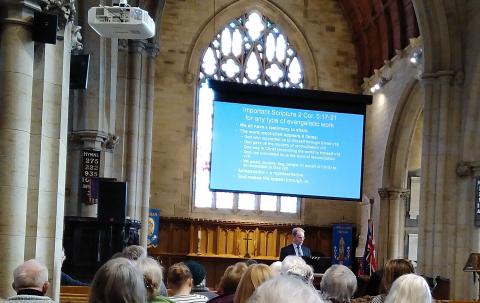 A few of us went to hear Duncan Hunter at the East Lancashire Keswick Spring Convention at the weekend. A full-time evangelist, he explained the whys and hows of evangelism. He commented on the opportunities given to him by joining his local running club.
A few years ago, I was a member of an amateur dramatics group. A number of people in my then church objected- stage plays were worldly and frivolous; the time might be better spent in godlier pursuits. Maybe. And yet from that group, a number of people came to church who may not have accepted an invitation from a stranger in the street. Now Mr Hunter was a big fan of formal evangelism, such as book stalls and street outreach, for the two are hardly alternatives. Yet it's possible to exist in a Christian bubble in which the only non-Christians we meet and hear are inside the television. At Blackburn, there's a Christian doctors' surgery; at Fleetwood a Christian school; at Skipton a Christian bookshop with café. In some places, it might be entirely possible to never venture outside the safety of the Christian sub-culture.
A godly and learned pastor whom I recently met expressed disapproval of my resignation from work to concentrate on chapel affairs. A secular job and external contacts are often far more useful for outreach than living in a cocoon, and I'm inclined to agree. Each one of us should consider the number of friends and acquaintances we have outside our church circles. These little mission fields are often more fruitful than mass crusades.